UAE investment firm Tawazun Economic Council has completed the acquisition of a 50% stake in the developer of the VRT500 light-single helicopter, a deal first announced at the Dubai air show two years ago.
The VRT500 and the smaller, unmanned VRT300 were being developed by VR Technologies, a subsidiary of Russian Helicopters.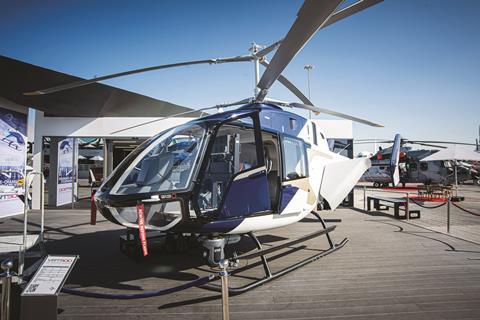 That business will now be owned by a new Singapore-based company called Aeroter; Tawazun will hold 50%, while the identity of the other shareholder remains undisclosed.
As part of the agreement in 2019, each party promised to inject $400 million into VR Technologies.
First flight of the VRT500, which is powered by a single Pratt & Whitney Canada PW207V engine, is planned for mid-2022 "at the test area of the subsidiary company in Europe", it says.
In 2020, VR Technologies announced that it had bought Vertex Aero, a company based in the east of Italy. It holds European Union Aviation Safety Agency (EASA) design organisation approval, key for the planned European certification for the VRT500.
In total, four flight-test aircraft are planned, leading to EASA approval in 2024.
Aeroter has yet to commit to a final assembly location. "Several enterprises in different countries are being considered for the serial production of the VRT500," says chief executive Alexander Okhonko.
"We are planning to produce the first serial helicopter in Europe. At some point in the future, as demand increases, we will launch additional assembly sites will be launched in other countries but that will be the matter of business trade-off subsidies."
An initial ground-test prototype of the VRT500 is on display at the show.
Aeroter believes the co-axial rotor-equipped VRT500 can address the growing market for urban air mobility, alongside aerial inspection work and emergency medical services missions.
Future developments include the addition of a back-up battery system to provide emergency power in the event of engine failure, and further out, a fully electric propulsion system, which "forms part of our future product planning," says Okhonko.
Meanwhile, work continues on the VRT300. Test flights are being carried out in Russia, and certification is anticipated in 2023.