In November last year, amid the tumultuous final days of Donald Trump's presidency, the US government gave its approval for what would previously have been an unthinkable arms sale to the United Arab Emirates (UAE).
Worth almost $23.4 billion, the proposed package includes 50 Lockheed Martin F-35As, 18 General Atomics Aeronautical Systems MQ-9B SkyGuardian unmanned air vehicles (UAVs) and a broad array of precision-guided weapons.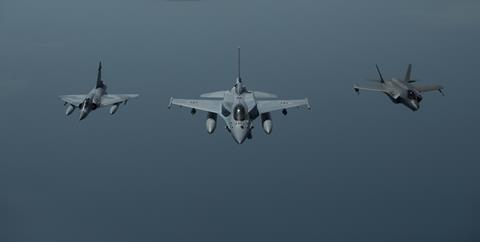 Selling a fifth-generation stealth fighter to the UAE only became a possibility following the signature of the Abraham Accords – a peace agreement between the Middle East state and Israel – just two months earlier. Brokered via the USA, the pact normalised relations between the nations, enabling direct commercial flights and the development of new trade links.
While the UAE has long been interested in the F-35A, which made its first Dubai flying display appearance two years ago, getting to this point took many twists. Over the past decade-plus, it had also flirted with potential acquisitions of the Dassault Rafale or Eurofighter Typhoon, and additional Lockheed F-16E/Fs.
Expectations of a Rafale buy grew around the Dubai show in 2009, but two years later a request for information linked to a planned 60-aircraft acquisition also considered the rival Typhoon. In November 2013, then-UK prime minister David Cameron visited the show, in the hope of getting an agreement for the Eurofighter over the line.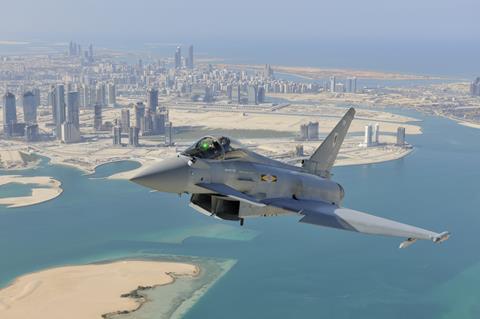 But in a disappointing twist for the European bidders, the requirement subsequently evaporated. In its place, the UAE sought a follow-on purchase of 30 F-16s in an advanced Block 61 standard, with a deal also to include the modernisation of its existing fleet of the type to the new configuration.
The UAE previously acquired 80 Block 60-standard F-16s, with Cirium fleets data showing that 78 remain in its active inventory, aged between 10 and 17 years. Its air force also operates 59 Dassault Mirage 2000-9 fighters, which have been in use for between 16 and 31 years.
Unusually, the outgoing Trump administration notified Congress of its approval for the mammoth arms package, rather than following the normal sales process, which first seeks its backing.
Announcing the deal, then-secretary of state Mike Pompeo referred to "the UAE's need for advanced defence capabilities to deter and defend itself against heightened threats from Iran". Also made with the support of the Israeli government, the approval was intended to send a clear message to the authorities in Tehran.
Washington had previously ruled out selling the F-35 outside of Israel in the Middle East, in a bid to ensure that its ally's military maintains a qualitative edge over potential future foes.
ISRAELI ENDORSEMENT
The Israeli air force has been using F-35I Adir strike aircraft operationally since December 2017. Cirium data shows that the service has built its active fleet to 27 examples, with a further six on firm order. Israel's current plans call for an eventually 50-strong fleet of the type.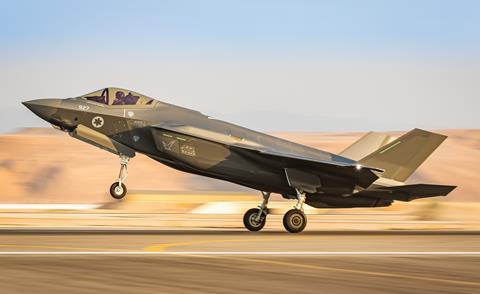 In late January, current secretary of state Anthony Blinken confirmed that the proposed sale to the UAE was being assessed, noting: "it is typical at the start of an administration to review any pending sales, to make sure that what is being considered is something that advances our strategic objectives and advances our foreign policy."
Reports in mid-April indicated that Washington would proceed as planned.
"We can confirm that the administration is moving forward with these proposed defence sales to the UAE, even as we continue consulting with Emirati officials to ensure we have clear mutual understandings with respect to Emirati obligations and actions before, during, and after delivery," the Department of State says.
"Projected delivery dates on these sales, if implemented, would be several years in the future. Thus, we anticipate a robust and sustained dialogue with the UAE to ensure that any defence transfers meet our mutual strategic objectives to build a stronger, interoperable, and more capable security partnership," it continues.
"We continue to reinforce with the UAE and all recipients of US defence articles and services [that] US-origin defence equipment must be adequately secured and used in a manner that is consistent with respect for human rights and fully complies with the laws of armed conflict."
In addition to its $10.4 billion fighter purchase, the UAE's new arms package includes air-to-air and air-to-surface weapons worth $10 billion and SkyGuardian UAVs valued at an estimated $2.97 billion, the US Defence Security Cooperation Agency says.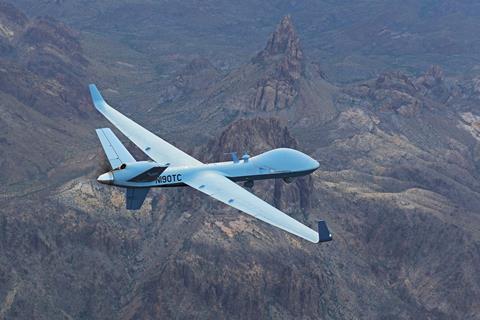 The General Atomics-produced MQ-9Bs would be equipped with Leonardo's Seaspray 7500 maritime search radar, and carry Lockheed AGM-114R Hellfire air-to-surface missiles and Raytheon Paveway II-series guided bombs. Other weapon options could include Boeing Joint Direct Attack Munitions and GBU-39 Small Diameter Bombs.
Fielding the SkyGuardian will mark a capability jump for the UAE air force, which has previously acquired General Atomics' unarmed Predator XP. It also received approval from the US Congress in May 2019 to buy 20 Insitu RQ-21A Blackjack UAVs, under a deal worth a potential $80 million.
As a result of the Abraham Accords, major players such as Elbit Systems and Israel Aerospace Industries can this year exhibit their UAV products at a Dubai air show. This will provide stiff competition for China's AVIC, which has attended previous events to promote products including the armed Wing Loong I and II vehicles and U8EW unmanned rotorcraft.
But fielding F-35As will be a hugely more significant step for the UAE, which has waited while the other Gulf Cooperation Council (GCC) member states have embarked on major combat aircraft acquisitions over the past several years.
SPENDING SPREE
Bahrain is expected to receive its first of 16 new F-16Vs late this year, with the active electronically scanned array (AESA) radar-equipped assets to bolster its in-service fleet of 21 F-16C/Ds.
Long-term Boeing F/A-18C/D operator Kuwait is acquiring 28 examples each of the E/F-model Super Hornet and multi-role Typhoon, with the latter featuring a Leonardo ECRS Mk0 AESA array.
Qatar's combat aircraft expansion is the most dramatic fleet development in the region in recent years, with Doha's aged Dassault/Dornier Alpha Jets and Mirage 2000-5s already joined by Rafales and Typhoons, and Boeing F-15QAs to follow. In all, its air force will be introducing a combined 94 of the new models.
Saudi Arabia, meanwhile, has completed its introduction of advanced F-15SAs, which have joined earlier examples of the type, with its air combat fleet also including 72 Typhoons and Panavia Tornado strike aircraft.
Remaining GCC member Oman has no current fighter requirement, due to it already operating F-16C/Ds, Typhoons and armed BAE Systems Hawk 203s.
In addition to its future stealth fighters – which Cirium indicates could be produced in the 2025-2031 period – several further acquisitions are planned by the UAE. At the 2019 show, it announced plans to purchase another three A330 multi-role tanker transports (MRTTs), in a move that would double its fleet of the Airbus Defence & Space type. Its trio of Rolls-Royce Trent 700-engined and refuelling boom-equipped MRTTs were delivered between 2010 and 2011.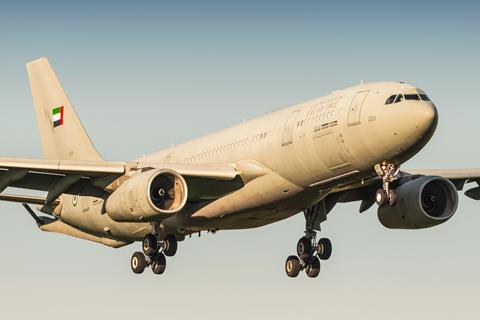 No deal has yet been signed, opening the potential for an order to be advanced at this year's event.
The US Air Force gave a Dubai show and Middle East-region debut to its 767-based KC-46A in 2019, and Boeing has previously suggested that the UAE could also acquire its Pegasus as part of a future strengthening of its tanker capabilities.
Also at the last event, Saab was awarded a follow-on deal to provide two more Bombardier Global 6000-based GlobalEye surveillance aircraft. The Swedish supplier – which finalised the just-over $1 billion contract last December – had brought one of its previously three on-order examples to make its show debut.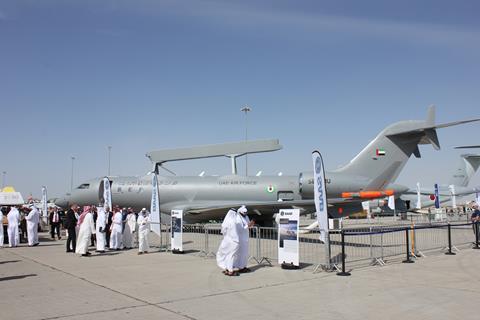 Selection by the UAE in 2015 – then as a two-aircraft deal – brought launch order success for the GlobalEye product, which combines airborne, land and maritime surveillance capabilities. A third example was ordered in 2017.
The platform's primary sensor is its Saab Erieye ER AESA radar, while it also carries an electro-optical/infrared sensor and Seaspray 7500E maritime radar. The aircraft also has electronic warfare capability, with electronic support measures equipment installed on its wingtips. With five onboard operator stations, the type has an endurance of around 11h.
Saab performed GlobalEye deliveries in April and September 2020, and February 2021. The remaining two aircraft from the programme are at its Linkoping modification site. Bombardier announced in late August that it had transferred the final "green" airframe.
"The aircraft was delivered to Saab from Bombardier's Toronto manufacturing site and underwent interior completions work at Flying Colours in Peterborough, Ontario, prior to arriving in Sweden," the business jet supplier says. It describes this process as introducing "a practical, functional interior for the mission system operators".
In January, Saab said that work under its latest contract is due for completion by 2025.
The company has yet to secure a second customer for its GlobalEye, but has offered two examples to Finland as part of its HX fighter proposal, where it is proposing to supply 65 Gripen Es to Helsinki. The Swedish air force has also expressed interest in the modified business jet as a potential replacement for its two Saab 340-based airborne early warning and control system aircraft.
Other potential UAE procurements could include in the airlift sector – in 2009 it gained approval for a potential 12-aircraft acquisition of Lockheed C-130Js; a deal which failed to progress. The service now operates four H-model Hercules, and the same number of commercial L-100s.
An advanced jet trainer need also could emerge, especially if the planned F-35A purchase moves ahead. The UAE currently uses a small fleet of Hawk 102s, along with Pilatus PC-21 turboprops, and several years ago expressed interest in the Leonardo M-346, including armed examples.
Beyond these prospects, the UAE's acknowledged procurement activity appears modest, with only 24 Calidus B-250 armed turboprops and 10 Boeing AH-64E attack helicopters on firm order.
RAPID EXPANSION
However, it should be noted that the nation has completed a major fleet expansion over recent years. The 2011-2012 version of Flight International's World Air Forces directory saw its in-service fleet stand at 373 aircraft, while Cirium data shows that it now has 553, split between its air force (322) and joint air command (231).
The most marked increase in its capability over the past decade has been seen in the combat helicopter category, where its active inventory has soared by 126 aircraft, from just 97. Its strength also has grown in all five of our other directory categories.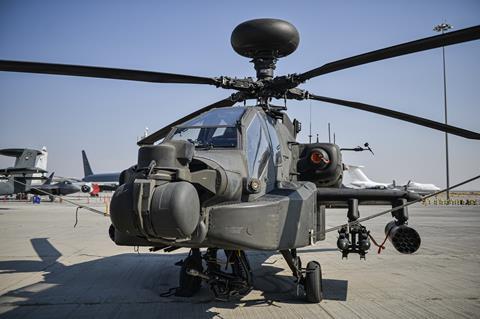 Cirium data shows that the UAE's current inventory accounts for 28% of the GCC group's combined 1,951 military aircraft. This puts it in second place behind Saudi Arabia: Riyadh's armed forces have 897 aircraft, or a 46% share. The rest of the regional fleet is made up with assets operated by Qatar (161/8%), Oman (128/7%), Bahrain (110/6%) and Kuwait (102/5%).
Looked at in terms of equipment mix, the UAE's 119 combat aircraft represent 22% of its total fleet, versus a 40% share for its 223 combat helicopters. Some 146 training aircraft/helicopters account for a further 26%, with the remainder split between transports (39/7%), special mission types (23/4%), and a trio of tankers; or less than 1%.
With its F-35A deal seemingly still on track, the UAE's future fleet mix looks set to become more potent, giving it a stealthy edge over potential foes, while satisfying the strategic requirements of both the USA and Israel.