Bombardier has unveiled the mock-up of a drone demonstrator it has been using to test sustainable technologies as part of a project called EcoJet, which is targeting a 50% reduction in emissions compared with today's aircraft.
Although the Canadian manufacturer stresses that EcoJet is a research study, it showed a short video of a blended wing body (BWB) futuristic concept with twin tail-mounted engines.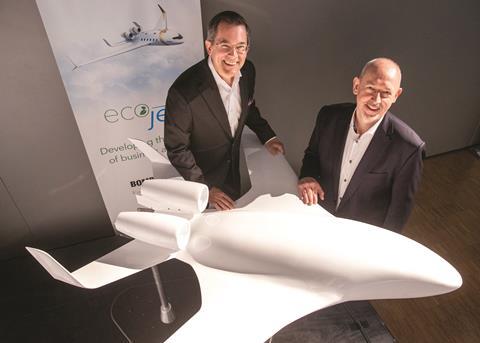 BWB designs are an area Bombardier has been looking at for more than a decade, says Stephen McCullough, vice-president engineering and chief of aircraft design and development. He adds that technology readiness is progressing, initial testing has demonstrated potential benefits, the technology is "scalable to our business jet needs", and is compatible with all types of future propulsion.
The airframer has been flying the demonstrator at a secret location in Quebec, and says it is now developing a larger unmanned platform to progress the project. McCullough says Bombardier wants to engage with suppliers and academia on EcoJet.
Bombardier also says that it has issued an Environmental Product Declaration (EPD) for the Challenger 3500. It follows a similar mark for the Global 7500, the first business jet to receive an EPD.
An EPD analysis adheres to International Standards ISO 14020, which specifies requirements for environmental claims. Bombardier says the EPDs demonstrate its "ongoing commitment to sustainability".
"Bombardier is the only business aviation manufacturer to hold EPDs, confirming that reducing the industry's environmental footprint is of the utmost importance to us," says Michel Ouellette, executive vice-president, engineering, programme management and Bombardier Defense.