US-based electric motor manufacturer Magnix believes it can stay ahead of new market entrants – even the traditional aerospace powerhouses that are eyeing the growing market for sustainable aircraft.
Magnix – making its EBACE debut this week – has been developing electric motors for aviation since 2009 and hopes to have achieved certification for its 640kW Magni650 electric propulsion unit by the first quarter of 2021.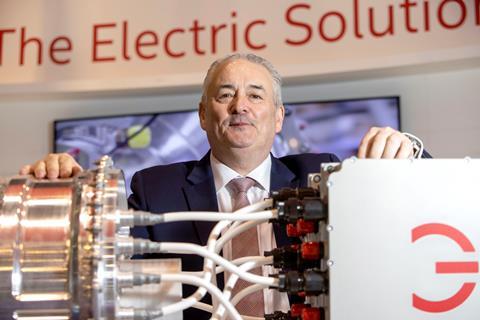 Located in Everett, Magnix has already been selected to supply the electric motors for numerous projects, both conversions – such as Harbour Air's eBeaver floatplane – and clean-sheet designs like the Alice being developed by sister company Eviation.
Despite its head-start, Magnix is likely to face increasing competition, not least from aerospace propulsion specialists like Rolls-Royce and Safran which are moving ahead with their own electrification initiatives.
Nonetheless, the manufacturer is confident it can maintain its leadership position. "It's a competitive business but I think we can stay ahead of the competition in certain areas," says Simon Roads, senior vice-president of sales and marketing at Magnix.
"There's interest [from other manufacturers] but it is not their primary interest – for us there's nothing else for us to focus on but this.
"We just have to prove our product and stay ahead of the competition."
Work is continuing with Harbour Air as the Vancouver-based operator looks to fly a certifiable version of its eBeaver by the end of 2023.
That will see the conversion of a 1955-built De Havilland Canada DHC-2 Beaver to run on battery power, replacing the existing Pratt & Whitney R-985 Wasp Junior powerplant with a Magni350 unit.
An initial proof-of-concept conversion continues to fly, with Magnix recently having recently received that aircraft's motor for examination. "Everything was good – there was no degradation," he says.
Magnix has so far concentrated on development of electrical power units, but Roads says it will increasingly look at the energy storage and power management systems too.
"One thing we are taking a more active role in is energy storage system. We don't ever intend to build batteries but we need to be part of the integration into the airplane."
Meanwhile, the firm continues to analyse the potential for future conversion projects: "We look for aircraft that are a good fit for our product line," says Roads.
Most recently it was selected by Surf Air Mobility, alongside certification specialist AeroTec, to develop a hybrid-electric powertrain for the Cessna Grand Caravan. That project is at the conceptual design review stage, says Roads.
Magnix yesterday annouced that it had appointed Nuno Taborda as chief executive, moving across from Rolls-Royce's business aviation operation. Magnix chief technology officer Riona Armesmith is also a former Rolls-Royce employee.