Eviation is gearing up for the first flight of its all-electric Alice prototype in the coming months having completed ground testing earlier in May.
However, the clean-sheet aircraft developer is staying tight-lipped on precisely when the proof-of-concept Alice prototype will take to the skies, simply saying the milestone will occur "this summer".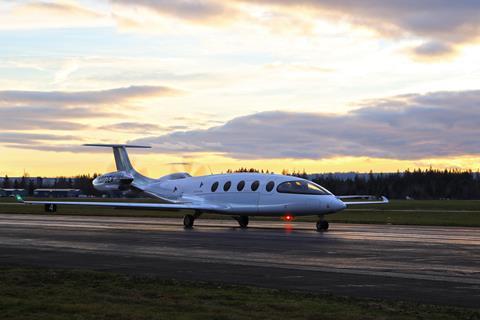 "We have a well-constructed programme schedule we are working towards now," interim chief executive Gregory Davis told FlightGlobal at the EBACE business aviation show on 24 May.
In February this year the company promised that the Alice's maiden sortie was just weeks away, but the aircraft has remained stubbornly earthbound.
Davis declines to provide details but says the results of ground tests convinced it to slow the push towards first flight.
"The reason why we do the ground testing is so that we know how the aircraft is going to operate.
"When we completed the ground-test programme we found some things that we needed to tweak and that's what we are working on as we prepare the aircraft for first flight," he says.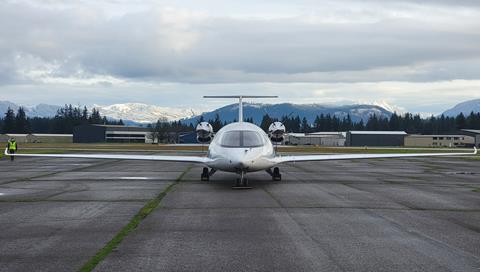 Evaluations of the systems under review have been conducted in recent weeks, Davis adds.
Low-speed ground testing was wrapped up on 2 May, says Davis, with the aircraft having been taken to a maximum speed of 86kt (160km/h). High-speed taxi trials, including the crucial rejected take-off test, will only be performed once the aircraft has secured its experimental permit to fly.
Davis says flights of the first of three certification aircraft will begin in 2024. This should lead to type approval for the unpressurised version from the US Federal Aviation Administration under Part 23 regulations in 2025. Eviation anticipates cargo operations beginning that same year and passenger flights using the pressurised model starting in 2026.
Eviation continues to develop the supply chain for the Alice, with several key partners already identified; for example, sister company Magnix is providing twin Magni650 electric motors and GKN Aerospace is to build the wing.
However, the manufacturer of the fuselage and T-tail has yet to be disclosed. Although French composites specialist Multiplast built those structures for the demonstrator, Davis says it is "not likely" to be used for the serial model due to the relatively high volumes required.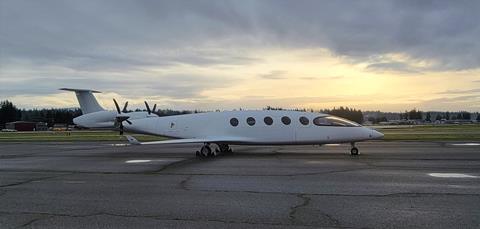 Although Honeywell is delivering a compact fly-by-wire control system, and subsidiary BendixKing is supplying the demonstrator's avionics, Eviation has yet to select a flightdeck provider for the production aircraft. Two flightdecks are under consideration, with Honeywell's new Anthem cockpit thought to be a likely candidate.
Final assembly of the Alice will take place in Arlington, Washington.
Sales efforts for the Alice are meanwhile gathering momentum as Eviation looks to add to its current 87-unit backlog: 12 in a cargo configuration for DHL and 75 of the nine-seat commuter variant for US regional airline Cape Air.
Efforts at EBACE – where it opened its European order book for the Alice - were largely focused on the six-seat Executive variant for which Eviation sees interest from individual aircraft owners, corporate flight departments, and larger fleet operators, such as Wheels Up, in the Part 135 charter and air taxi space.
"I look forward to announcing an Executive deal at some point before long, I hope," says Davis.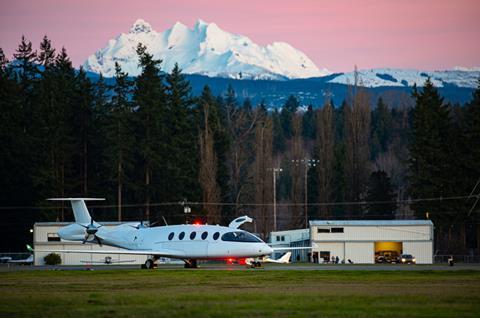 However, he cautions that the Eviation is being selective about which customers will receive their aircraft first, seeking those that are "experts in onboarding new aircraft" and which can assist with driving maturity into the platform.
Interest is coming from potential customers seeking a replacement for older turbine-powered aircraft as well as those eyeing fleet expansion, he says, adding: "Our pipeline is very full."
Operating costs will be anywhere between 33% and 66% lower than conventionally-fuelled aircraft, Davis claims. While Eviation is targeting a maximum ferry range at service entry of 440nm (814km), Davis believes most operators will only fly it on routes of 150-300nm. Cruise speed is intended to be 250kt (463km/h).
Davis was handed the role of interim chief executive in February following the abrupt departure of his predecessor and Eviation founder Omer Bar-Yohay. However, he will not be drawn on his future: "All I will say is that it's up to the board of directors."