Leonardo Helicopters is celebrating the return of EBACE with a double debut: it is the first air show where the manufacturer is solely represented by its Agusta corporate and VIP brand, and the airframer is also showcasing a trio of newly developed interior concepts.
Launched in October 2021, Agusta revives a brand that had slowly fallen from prominence thanks to successive reorganisations at the Italian company, with the only remaining vestiges of the name in the AW designations of its helicopters.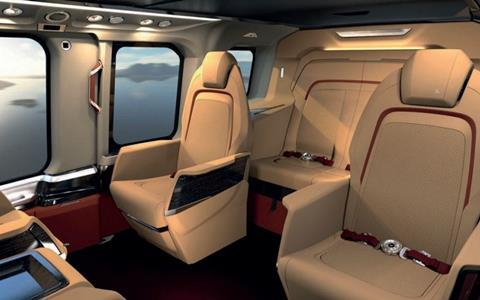 But the company believes the Agusta moniker neatly encapsulates the characteristics of its VIP business.
"Agusta is a unique combination of best-in-class performance, comfort and refined Italian style," it says.
Manuela Barbarossa, head of the VIP and corporate segment at Leonardo Helicopters, says the revival of the Agusta name has been welcomed by customers.
"We are leveraging our heritage and what we have done historically in this particular segment to give back to the market the name they were clamouring for," she says.
But in parallel with the rebranding, the company has developed some "inspirational" interior concepts – called Agusta Interior Moods – which it is presenting for the first time at EBACE.
Barbarossa stresses they are not predefined VIP cabins but a series of broad design palettes inspired by three of the most striking cities in the world – Firenze, or Florence, London and New York – designed as a "way to promote and present to our customers how to create their perfect habitat".
Firenze symbolises the Renaissance and features "warmth and harmony" with a cool classical elegance; London highlight the contrast of old-world refinement and modern style inherent in the UK capital; New York, meanwhile, conveys the cosmopolitan and constantly changing nature of the Big Apple.
"So far we have conceived these moods… they are essentially a way to help customers start thinking about their own habitat," she says.
Discussions with potential clients are ongoing, says Barbarossa, hopefully leading to a first delivery of a city-inspired interior in late 2022 or early 2023.
The Interior Moods will be available across the manufacturer's range, including on the AW609 civil tiltrotor which is due to enter service in 2023.
In addition, she says there is a great deal of interest in Casa Agusta – a new VIP rotorcraft terminal launched last year; an initial facility has been built in Dubai and is being operated by Falcon Aviation Services.
And that region could be a strong source for future sales for the rotary-wing FBO: "We have several conversations ongoing, but let me say that the Middle East is an area that has demonstrated a lot of interest."
The airframer has a single AW169 medium-twin on its EBACE stand, a helicopter it sees as gaining popularity in the VIP segment.