Like a lot of successful and energetic entrepreneurs, Dustin Dryden decided semi-retirement was not for him after the aircraft management outfit he founded, Hangar8, was merged with Gama Aviation in late 2014. Within a year of leaving the amalgamated entity – which kept the Gama name – Dryden was back in business, and back at Oxford airport, where Hangar8 was based.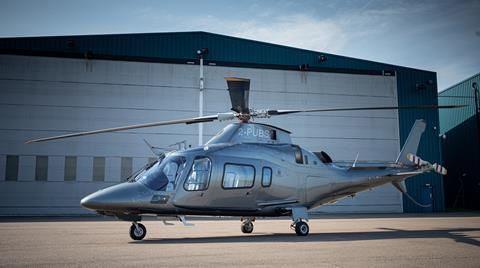 His new company, Volare, initially focused on buying and selling used jets and helicopters, but has diversified into aircraft management, and, in the past two years, charter. The latter has become Volare's fastest-growing activity. "Covid changed everything. Two years ago, we would never have dreamt of entering this business," says Dryden. "But it's the real growth part for us at the moment."
He attributes this to the fact that flying privately lost its stigma during the pandemic, as wealthy individuals sought out reliable, hassle-free, and virus-proof alternatives to flying commercially. "It re-set people's values. Travelling by airline became difficult," says Dryden. "Chartering an aircraft became more socially acceptable, and once people have tasted it, they don't tend to go back."
Volare has a fleet of 31, Guernsey-registered aircraft – 19 fixed-wing and 12 helicopters – but says this will hit 50 by the end of the year. All but two are available for charter. The company's business model varies from other management and charter companies in that Dryden buys used aircraft on spec and refurbishes them, before finding buyers.
Typical are the seven ex-medevac Leonardo Helicopters AW109Es Volare acquired from Babcock International in 2021. The 2000s-vintage rotorcraft are being refurbished into a VIP configuration with two rows of three seats. They have also had their avionics upgraded and been repainted. Dryden says all of them have been snapped up within days of going on the market.
Dryden admits that its purchase-first-then-sell model is "cash flow sensitive", but says that, so long as there is a sellers' market, as there is at present, Volare is able to shift assets from its books very quickly. At the same time, because most are in need of refurbishment, the aircraft it buys and supply chain it engages with are not available to a retail buyer.
The risk is that "the marketplace shifts quickly", leaving Volare with depreciating equipment on its balance sheet. However, even after the financial crash of 2008, values did not plunge overnight, says Dryden, who believes that one of Volare's strengths is its strong cash position. "A lot of our ability to buy at the right price is having the cash at the right time," he says.
Volare delivered 21 aircraft last year, mostly with management contracts. Almost all its customers are from the local area – the Cotswolds has one of the highest ratios of multi-millionaires in the UK – and many are first-time owners, says Dryden. Guernsey's 2-prefix gives them the opportunity for fun personalised aircraft naming, such as 2-FAST.
Volare, which employs around 100 staff and occupies from two airport-owned hangars, one dedicated to its helicopter business, is approved to carry out maintenance on most major brands, except Dassault. It has just taken delivery of its – and Oxford airport's – largest resident aircraft, a Boeing Business Jet.
Dryden – who started as a pilot before running Cirrus and Hawker-Beechcraft distributorships – set up Hangar8 in 2005, going on to list the company on the London stock exchange three years later. Despite geopolitical headwinds at home and globally, he sees no signs of a slowdown. "This marketplace is the best I've seen it in some time," he says.