Rolls-Royce is attempting to reassure investors and operators of the Airbus A350 over the impact of the latest durability problem to hit its Trent widebody engine family.
While operators of Trent 1000-equipped Boeing 787s have endured several years of misery and Rolls-Royce has seen its finances and reputation dented because of multiple issues with that powerplant, the latest problem centres on the Trent XWB-84 for the A350-900.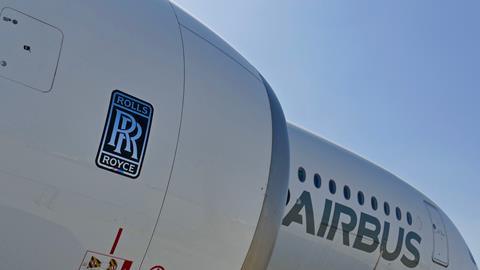 Rolls-Royce says that fatigue cracking has been discovered in stage one intermediate pressure compressor (IPC) blades on certain higher-cycle XWB-84 engines.
However, the propulsion specialist has moved quickly to dismiss a link between this issue and those on the Trent 1000.
While Rolls-Royce says it is too early to identify the root cause of the lower durability, Frank Haselbach, chief engineer for large engine programmes, says it is "pretty convinced" the issues are unrelated.
He says the problem was discovered during routine inspections of "high-life" engines – those with 2,300-3,400 cycles, which have been in operation for four to five years – as part of their first shop visits. The component would normally expected to have double that lifespan.
Around 100 of the total 800-strong inventory falls into the at-risk category and the fatigue cracking has been found on about one-fifth of the affected engines, says Haselbach. In each case, one or two blades were cracked.
"It is something that we didn't expect to see but it is definitely of a much smaller character than we had a couple of years ago," says Haselbach. "It happens later and is much less severe.
"We are quite happy that we found the issue before the issue found us."
A smaller pool of 25 "lower-life" powerplants has also been examined, with no issues detected. Haselbach stresses that the different architecture on the Trent XWB-97 for the A350-1000 means "it cannot happen" on the higher-thrust variant.
He says he is pressing the manufacturer's engineers to have determined the root cause "this side of Christmas".
In the event that the IPC blades need redesigning, it will be "a couple of years until we have the solution", he says, while any retrofit programme "will take some time".
While Rolls-Royce declines to disclose its estimate of the likely financial impact, Hasselbach states that the company does not "regard this as being material".
Operators were informed of the need for a heightened inspection regime via a service bulletin issued late last week. This requires that engines over 2,300 cycles should be inspected within the next 50 cycles – then at every 200 cycles. Lower-cycle examples must be inspected once, before they reach 2,300 cycles, then every 200 cycles.
Haselbach says the process lasts 30-60min and can be completed without the need to remove the engine.
An airworthiness directive from the European Union Aviation Safety Agency will follow on 12 August.
"Given the limited scale of additional work which we anticipate will be required at existing shop visits to address this wear, together with the availability of replacement parts and spare engines, we do not expect this issue to create significant customer disruption or material annual cost," says the company.
It does not expect to see a repeat of the widespread groundings experienced by operators of Trent 1000-equipped 787s, a situation that was only finally resolved earlier this year.
Haselbach says the greater availability of MRO capacity on the back of lower aircraft utilisation during the coronavirus crisis will also aid the situation.