Just how significantly the coronavirus pandemic has hammered aircraft engine makers came starkly into view in recent weeks, when several top manufacturers disclosed third-quarter results.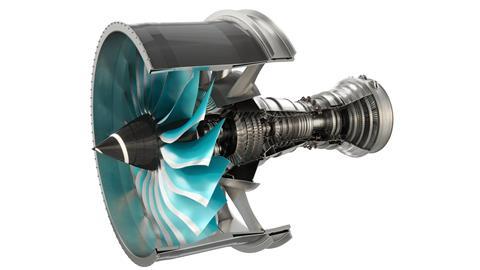 The companies reported deep losses and tumbling revenue amid declines in new-engine shipments and shriveling aftermarket demand.
Suppliers including CFM International, GE Aviation, Pratt & Whitney, Rolls-Royce and Safran have been playing defence, taking steps to stem cash outflows, holding on until the industry recovers.
But amid such conditions, the ability of engine makers to pursue ambitious clean-energy technologies with the same gusto they showed pre-pandemic seems unlikely.
Some projects, though certainly not all, seem to have been pushed backstage.
That's no surprise considering the numbers staring executives in the face.
Safran, which jointly owns CFM with GE Aviation, on 30 October disclosed that its aerospace propulsion revenue slipped 48% year on year in the third quarter. For the first nine months of 2020, that revenue is down 37%.
The figures partly reflect the slow pace of CFM's Leap deliveries – a consequence of the 737 Max grounding and the pandemic-driven airline industry collapse.
CFM shipped 622 Leaps, which power Boeing 737 Max aircraft and are one of two options for the Airbus A320neo family, in the first nine months of 2020, down 53% year on year.
Responding to that, Safran this year has cut its workforce, which stood at 95,000 staff in 2019, by some 15,000 full-time workers. The company has slashed research and development spending by one-third in the January to September period, it says.
In the USA, GE Aviation's third-quarter operating profit sank 79% year on year to $356 million, with revenue slipping 39%, to $4.9 billion.
The Ohio-based engine maker still turned a $681 million profit in the first nine months of 2020. But that figure is down 86% year on year, and GE in the third-quarter alone cut some 3,500 staff.
Connecticut competitor P&W lost $615 million in the third quarter, with sales off one-third year-on-year. Year to date, P&W has lost $597 million, parent Raytheon Technologies reported on 27 October.
P&W shipped 417 large commercial engines, including PW1000Gs, in the first nine months of the year, down 21% from 2019 levels.
Executives have made clear that engine deliveries are down precisely because, amid the pandemic, airlines have little need for new aircraft. And aftermarket sales have slumped to troubling levels because airlines have grounded so many aircraft amid the downturn.
In recent decades, engine makers adopted business models based on selling new engines at discounts – even losses – then making up the difference with profitable engine-service contracts.
"This downturn is different," Kevin Michaels, managing director at consultancy AeroDynamic Advisory, said on 28 October during the virtual MRO TransAtlantic conference. "It's the fact that we have a major MRO and production downturn at the same time. If you add the Max shutdown into this, it really, really muddies the picture."
Airlines have further reduced their need for engine maintenance by swapping engines from grounded jets onto in-service jets, adds Michaels.
R-R has announced only first half results. But the pandemic, in choking demand for long-haul international air travel, has slammed the UK company. R-R specialises in manufacturing engines for large widebody jets.
"The net effect is a significant reduction in the demand for new engines," R-R civil aerospace director of product development and technology Simon Burr tells FlightGlobal.
R-R's civil aerospace business generated £2.5 billion ($3.3 billion) in revenue during the first half of 2020, down 37% year-on-year. The business lost £1.8 billion in the six-month period.
"So much money has been sucked out of the transportation sector. It will take several years to recover," perhaps until 2024, Burr says.
He adds that furloughing staff and other temporary cost-cutting measures "are not sufficient".
R-R responded earlier this year by announcing plans to reduce its payroll by 9,000 workers, including 8,000 staff from its civil aerospace businesses – and to consolidate its manufacturing footprint.
The company is ending widebody-aircraft engine assembly at sites in Germany and Singapore, consolidating that work at the company's Derby, UK site. It is also shiftingTrent fan blade production from two sites to a single facility in Singapore, concentrating disk and turbine blade machining in the UK and consolidating blisk production at two sites, down from three.
"What we are doing is consolidating where we have duplication of capability," says Burr.
Such sweeping staff cuts could leave engine makers and other aerospace companies at risk of facing a shortage of skilled workers when a recovery does eventually take hold. Workers shown the door in 2020 could take jobs in other sectors, such as auto racing and automotive manufacturing, which need related skills, Burr says.
"There is a risk that people will be lost to the industry. There's no question," Burr says.
CLEANER-ENERGY PROJECTS
Financial stress and loss of staff raises questions about the engine sector's ability to progress with development of clean-energy technologies. Such technologies are critical if the airline industry has a chance of meeting industrywide carbon-reduction goals.
Citing the downturn, R-R's Burr says new-technology development "may not be at the top of the agenda… right now".
But he insists that the "underlying environmental pressures" remain.
"They will return to center stage", Burr says.
Earlier this year, Raytheon Technologies revealed it had slowed the pace of Project 804, an effort to develop a hybrid-electric propulsion system for a regional airliner, starting with a De Havilland Canada Dash 8-100.
Raytheon corporate predecessor United Technologies, in partnership with corporate siblings P&W and Collins Aerospace, publicly launched the effort in 2019.
Another sign: In April, Airbus announced it was ending a joint R-R hybrid-electric project called E-Fan X. Through that effort, the companies were working to equip a BAE Systems Avro RJ100 with a 2MW electric motor. The motor was to replace one of the jet's four Honeywell turbofans, but the companies shuttered the project ahead of test flights.
Aerospace experts have long insisted that battery technology must advance significantly before being practical to power commercial airliners.
Executives from aircraft and engine manufacturers echoed that message on 4 November during the Royal Aeronautical Society's Climate Change Conference.
They described the benefits of electric systems as incremental, not revolutionary – at least not yet.
"Today's batteries clearly have a long way to go," P&W senior vice-president of engineering Geoff Hunt said during the conference.
However, Hunt notes battery technology advances rapidly, meaning that "over the coming years we are likely to see substantial improvements in that area that could open up the space".
Meantime, Hunt sees promise in reducing carbon output by shifting toward "more-electric" designs – meaning to supplement turbines with additional electric systems.
Adding a 1MW electric system to a single-aisle jet, for instance, would allow that jet to have smaller-core turbofans, he says.
"We continue to study… how we can use that to improve efficiency, and help us down the path," says Hunt.
Airbus's A380 UK chief engineer Jacqueline Castle likewise views the "more-electric" path as promising. Replacing conventional hydraulic systems with electric systems, for example, would reduce weight and improve efficiency, she says.
That said, the industry remains under pressure to curb carbon output far more than by a few percentage points. Specifically, ICAO has set the goal for the industry to cut emissions to half of 2005 levels by 2050.
Getting there is the tough part.
But in June France pushed the industry in that direction when it unveiled a €15 billion aerospace investment plan. The plan funds clean-energy technologies and sets impressive carbon goals.
It calls for the industry to develop an A320 replacement that would be 30% more efficient and that might be powered by zero-emission hydrogen technology. The French scheme also urges development of a new hybrid-electric or hydrogen-powered regional aircraft. The plan aims for service entry of the new regional aircraft in 2030 and of the new narrowbody between 2033 and 2035.
Seemingly taking the cue, Airbus in September unveiled three hydrogen-powered concept aircraft it says could be flying commercially in the 2033-2035 timeframe. The concepts, which Airbus calls "ZEROe", include a conventional-looking airliner, a blended-wing design and a 100-seat regional aircraft.
Hydrogen propulsion, long viewed as the Holy Grail of clean energy, also generated attention in August when former Airbus and United Technologies executive Paul Eremenko announced he formed Universal Hydrogen, a company seeking to develop a hydrogen production and distribution network for aviation.
Future projects aside, engine makers are quick to note that current in-service and in-development engines are significantly more efficient than those of the last generation. And, they point out, today's designs will be powering jets for decades to come.
R-R is working to improve conventional turbofan efficiency through development of its UltraFan, a next-generation widebody engine. That turbofan will achieve improved efficiency through a geared-fan architecture and greater bypass and pressure ratios, Burr says.
R-R had aimed for UltraFan to be powering aircraft beyond 2025. But little is certain amid the pandemic; R-R recently said the project could be delayed.
The UK company is also working to promote greater use of sustainable aviation fuels, and studying electric and hybrid-electric technologies, Burr says.
GE says hybrid-electric technologies are also in its sights. So too are open-rotor engines and "boundary-layer ingestion" designs, according to a GE report about technology and sustainability.
GE has studied open-rotor design for decades, successfully flight-testing its open-rotor GE36 in the 1980s. Such engines lack heavy fan cases and hold promise of delivering 30% fuel-burn savings, GE says.
Boundary-layer ingestion designs involve mounting engines at the extreme rear of aircraft. There, engines can reduce drag by ingesting slower-moving "boundary" air, which forms along the outside of aircraft and creates drag, according to GE.
But the company's report notes new technologies will take "years of additional development". Therefore, GE views sustainable aviation fuel and more-efficient air-traffic management as keys to more-immediate carbon cuts.
GE is also quick to highlight fuel-efficiency improvements already achieved. The company's narrowbody and widebody engines burn 40% less fuel than engines did in the 1980s, GE says.
Efficiencies have come from higher bypass and overall pressure ratios, use of carbon fibre and ceramic-composite materials, hotter engine temperatures and reduced weight.
The Leap-1A's bypass pressure ratio is roughly double that of the CFM56-5B, while the GE9X has an overall pressure ratio of 60:1, up from the GE90's 40:1 ratio, GE says.