Airbus and Pratt & Whitney Canada (P&WC) have joined together to study the feasibility of establishing a sustainable aviation fuel (SAF) production site in Quebec, and to fly an A220 powered by 100% SAF.
They have partnered on the effort with Quebec fuel development company SAF+ Consortium, and the project has backing from Quebec's government, P&WC parent Pratt & Whitney (P&W) said on 21 April.
"Key areas of collaboration include SAF research and testing, including flight testing blends of up to 100% SAF on an Airbus A220 aircraft powered by Pratt & Whitney GTF engines," says P&W.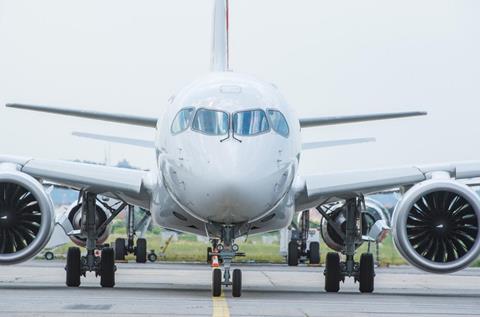 Canada needs to get cracking on SAF production if it has any chance of meeting output goals.
As of late 2022, the country had "no meaningful" SAF production, but the federal government has an "aspiration goal" for SAF to account for 30% of the aviation sector's fuel usage by 2030, says Canada's Aviation Climate Action Plan, updated in 2022.
The USA is not much better positioned. A March US government report said SAF accounted for only 0.09% of US airlines' jet fuel usage in 2022. Airlines globally view SAF as critical to them becoming carbon neutral by 2050.
P&WC, Airbus and SAF+ intend to spend some C$17 million ($12.5 million) on their new SAF partnership, says P&W.
The Quebec government's "funding can reach up to 50% of the total amount invested in the project," and will be awarded through 2027, says Airbus. The government did not respond immediately to a request for more information.
While the companies do not disclose a timeline for flying an A220 fuelled with 100% SAF, Airbus says all its "commercial aircraft will be capable of being operated with 100% SAF by 2030".
Commercial aircraft engines are already approved to burn fuel blends composed of up to 50% SAF.
SAF is a biofuel typically produced from feedstock including used cooking oil and plant material.
But the new Quebec partnership will also study "e-SAF", which is fuel produced from CO2 and hydrogen using manufacturing equipment powered by renewable energy, such as wind power.
The partners also intend to complete feasibility studies about establishing facilities in Quebec capable of producing 100 million litres (26.4 million USgal) of e-SAF annually by 2028.
Story corrected on 21 April to change the attribution of some comments from P&W to Airbus.