Airbus appears to be preparing to fly a current-generation CFM International engine that has been converted to burn hydrogen rather than standard jet fuel as it works to mature technologies for zero-emission flights.
The initiative was revealed by French aerospace firm Safran during its capital markets day on 2 December.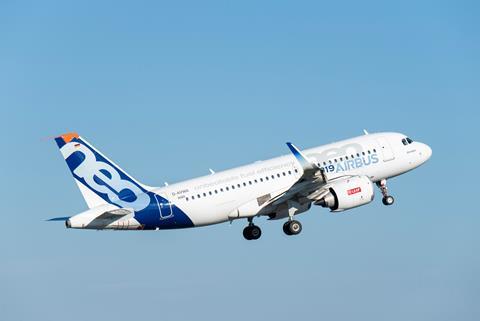 Speaking during the event, Eric Dalbies, executive vice-president of research and technology and innovation, called the effort "EarlyDemo".
"Within CFM, Safran is supporting the Airbus in-flight so-called EarlyDemo with the adaption of an existing engine," Dalbies says.
Safran is a partner with GE Aviation in the CFM International joint venture, which manufactures the Leap-1A for the Airbus A320neo. That powerplant appears the most likely candidate for the test role.
Dalbies says the test flights are a first step in Safran's strategy to "advance the technologies associated with a liquid hydrogen aircraft".
They will, he says, allow it to gain "experience about the operations and emissions of a liquid hydrogen propelled aircraft".
However, Airbus is staying tight-lipped on its plans. "Airbus is in constant talks with all engine manufacturers in order to assess and identify the propulsion technologies that would support its decarbonisation roadmap and enable the company to be ready to launch its first zero-emission airliner in 2025. These talks we keep confidential," it says.
Airbus is already working with several engine manufacturers to test 100% blends of sustainable aviation fuel: Rolls-Royce on the Trent XWB-powered A350 and Safran on an A319neo equipped with Leap-1As.
Although A320neo-familiy aircraft are also available with Pratt & Whitney PW1100G engines, the test campaign is part of a French government-financed effort which likely swayed the selection of the Leap powerplant, with its significant domestic content, as the test candidate.
Whether that dynamic also holds true for the hydrogen-fueled flights could hinge on whether the effort attracts significant levels of state funding.
Airbus sees hydrogen as a promising fuel for a next-generation narrowbody that would enter service in the 2030s.