Hybrid-electric propulsion developer Ampaire has secured a $1.25 million contract with the US Air Force (USAF) to develop "megawatt-scale hybrid technology" under the service's Agility Prime programme.
The Southern California start-up said in a 5 October company update that the contract would allow for expanded development of its AMP-H570 hybrid powertrain, which was initially developed on the Cessna 208 Caravan for commercial operations.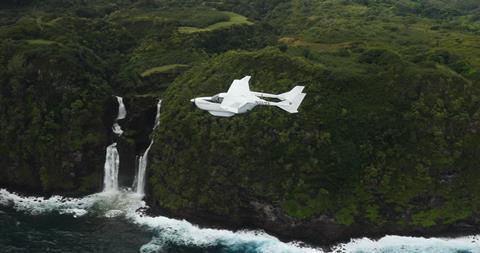 Now, the company will outfit a twin-engine Beechcraft King Air with "the first megawatt-scale hybrid prototype" powertrain, Ampaire says.
"This will be the first build and test of our second generation AMP-H570 powertrain unit," the company explains. "With this increase to 1.14mW (1,529hp) of power, Ampaire expects to set a new standard for hybrid propulsion capabilities and increase the range of applications dramatically."
Reaching "megawatt-scale allows us to begin producing hybrid power for military applications" as well as the civil aircraft market, Ampaire adds. "Reaching both of these markets represents the achievement of two huge goals for our company as a business and industry leader."
Ampaire also discloses a separate "follow-on contract" with NASA for creating a new class of powertrains – the AMP Drive 200 family.
"This will be the third NASA programme to use our Electric EEL aircraft – this time leveraging our existing technology to create a more efficient, smaller powertrain," says the start-up.
A modified Cessna 337 Skymaster, Ampaire's EEL aircraft is a testbed for developing "high-powered electronics, inverters, motors and related systems", according to the company's website.
Additionally, Ampaire says that start-up carrier Surcar Airlines of the Canary Islands has ordered three of Ampaire's "Eco Otter" aircraft – a low-emissions variant of the De Havilland Canada DHC-6 Twin Otter turboprop – for sight-seeing operations in Tenerife.
"The commitment by Surcar is part of a larger trend of airlines base-lining sustainable powertrain solutions from launch," says Ampaire's chief executive Kevin Noertker. "Ampaire is proud to play a key role in helping a tourist-rich area like the Canary Islands meet its unique transit needs while delivering a product that simultaneously lowers costs and reduces its environmental footprint."
Ampaire did not disclose the financial terms of its deal with Surcar and did not respond to questions about whether the aircraft order is a firm commitment.
To date, the company has flown more than 22,500 miles on its hybrid-electric systems, Ampaire says, including a recent multi-day, 2,955nm (5,473km) series of flights from Southern California to Fairbanks International airport in Alaska's interior.