British Airways has become the first airline to invest in hydrogen propulsion developer ZeroAvia, the first step in a journey that could see the flag carrier replace its whole short-haul fleet with zero-emission aircraft by 2050.
Alongside a group of existing backers, including the Bill Gates-founded Breakthrough Energy Ventures, BA contributed to a total of $24.3 million raised by the California-headquartered start-up.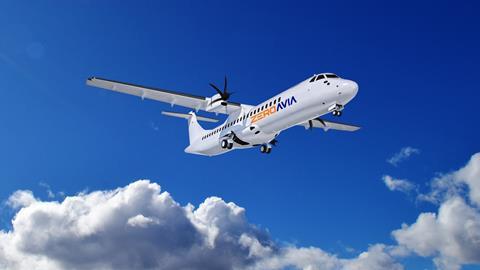 BA declines to say how much it provided for the Series A4 funding round, but the move is designed to allow ZeroAvia to advance the development of a fuel cell-based powertrain suitable for a 50-70-seat aircraft.
Under the accelerated timetable, that aircraft could enter service in 2026, following in the footsteps of a 19-seater which is scheduled to arrive in 2024.
Val Miftakhov, founder and chief executive of ZeroAvia, says while he is happy to have secured the latest backing "we are more pleased with the level of interest" shown in the next generation of its propulsion system.
"The investment is just a manifestation of that interest – it allows us to capture that demand sooner," he says.
ZeroAvia has since January been part of the Hangar 51 technology accelerator run by BA parent IAG. Carrie Harris, head of sustainability at the carrier, says the financial contribution "gives us the opportunity to solidify the relationship and our commitment to ZeroAvia and to the decarbonisation of aviation in the long term."
While the investment does not commit BA to purchase any future aircraft that use ZeroAvia's technology, "at the moment hydrogen does seem to be emerging as a clear winner for the future," says Harris.
The relationship built through Hangar 51 has allowed the airline to begin considering the operational requirements for a switch to hydrogen power, including the necessary fueling infrastructure.
In addition, BA is "looking at specific routes where there could be the opportunity for the early introduction of hydrogen aircraft," she says.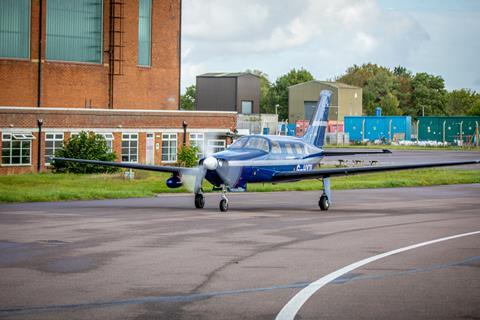 While adding a sub-100-seat aircraft would not be entirely alien to BA – its CityFlyer unit flies 76-98-seat Embraer E-Jets – it currently operates no regional turboprops, a class of aircraft that would gain the new propulsion system being developed by ZeroAvia.
But Harris sees the potential for a larger hydrogen-powered single-aisle arriving from 2030 – a timeframe that aligns with Airbus's plans to replace its A320neo family.
"As we start to phase that into the fleet we believe that by 2050 all short-haul flights could be on zero-emission aircraft," she says, basing that on the development of a suitable 180-seater from about 2035 and BA's typical replacement cycle.
ZeroAvia will later this year perform the maiden flight of the powertrain for the 19-seater, which is sized to deliver 600kW to each motor. This is being developed under the UK government-backed HyFlyer II programme.
Miftakhov says the company is in the process of acquiring a Dornier 228 twin-turborop for that effort; conversion is to take place at a recently acquired site at Cotswold airport in the southwest of England.
Work on that programme will run "at full speed" with the aim of delivering a certifiable design by the end of 2022.
Although development will take place on the Do 228, ongoing discussions with potential operators will determine the eventual launch airframe. Miftakhov says "the target is to make that decision this year".
"That's not necessarily what they fly today, but based on what capability and mission profile they are looking for."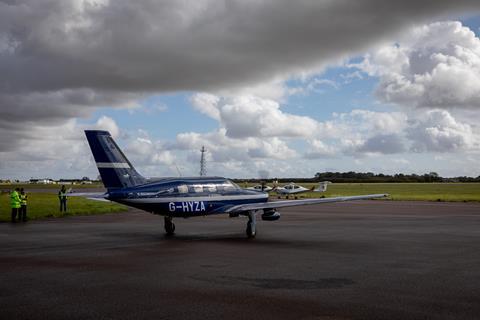 Additional aircraft types will be retrofitted with the ZeroAvia powertrain via supplemental or amended type certificates, he says.
Miftakhov estimates the ZeroAvia fuel cell system will offer a maintenance saving of around 50% against a turbine-powered 19-seater, with a similar fuel cost saving.
In parallel with HiFlyer II project, ZeroAvia will this year begin initial activities on the propulsion system which would equip a 50-70-seater, which would be capable of providing 1.6MW to each electric motor.
That development is likely to require close collaboration with an airframer, and, Miftakhov notes, the choice of aircraft suitable for conversion is limited to either the ATR 72 or De Havilland Canada Dash 8-300.
And further out, co-operation will be vital. "For the next size – to power a typical single-aisle – the timeline of potential engine availability is such that it is compatible with new airframes being designed," he adds.
"We could partner on a clean-sheet [design] – it is much more efficient to do it that way than via retrofit."
Production of the 600kW system will be in the UK, although a final location is yet to be selected. "We need to decide where and start working on some set up for that next year," says Miftakhov.
Meanwhile, the company continues final preparations at its Cranfield airport site in the UK for a cross-country flight with the hydrogen-powered six-seater – a converted Piper M350 – it has developed under the HyFlyer I project. However, at present that system will not be commercialised, says Miftakhov.