UK aerospace company BAE Systems has joined a GE Aviation-led effort to develop a megawatt-class hybrid-electric propulsion system suited for a narrowbody aircraft.
The partnership, disclosed by the companies on 21 April, comes amid a broader push by BAE to advance electric technologies for future aircraft.
GE in 2021 secured funding from NASA to create the hybrid-electric system, which the engine maker aims to begin testing on the ground and in the air in the mid-2020s.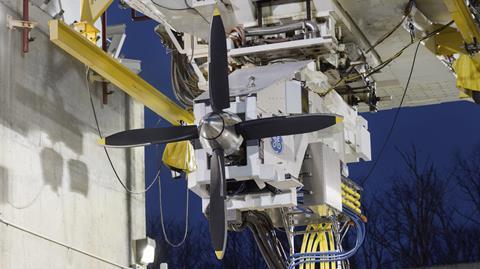 BAE's role includes designing the propulsion system's "energy management components", including controls, cables and batteries, GE says. The system will "store electricity and drive the motor/generator GE Aviation is building".
GE and BAE will test the hybrid system with a GE CT7-9B turboprop, and GE plans flight tests using a Saab 340B airliner.
In addition to supplying the energy system, BAE will contribute flight certification "guidance", says GE, noting BAE's "investment in aircraft electrification and expertise in flight-critical systems".
The GE project also has support from Boeing and its Aurora Flight Sciences subsidiary, which will assist with aircraft modification, systems integration and flight tests.
BAE in recent years has promoted its investment in electric-aircraft technologies. The company performs much of that work at facilities in Endicott, New York.
In 2020, BAE said it was designing a new class of flight controls and energy management systems for hybrid- and all-electric aircraft. The company describes that work as a "multi-million-dollar" effort but has not disclosed specific figures.
Last month, BAE said it had partnered with Slovenia-based Pipistrel Aircraft – recently acquired by Textron – to advance defence technologies, including those for electric aircraft.