GE Aviation has enlisted Boeing's help in developing and flight testing a Saab 340B equipped with hybrid-electric propulsion.
The effort is part of a NASA-backed GE project to develop a "megawatt-class hybrid-electric" system for future single-aisle aircraft.
GE plans to demonstrate its technologies using the modified Saab, with ground and flight tests scheduled to start in the mid-2020s.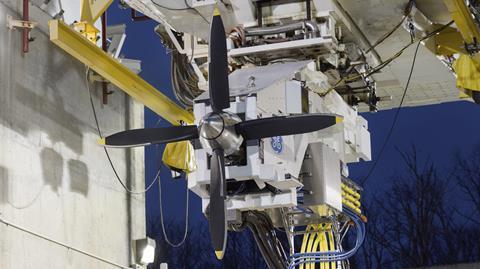 Boeing and its subsidiary Aurora Flight Sciences will support the project with "airplane modification, system integration and flight testing services", GE says.
"That work includes nacelle manufacturing, flightdeck interface design and software, aircraft-level performance analysis and systems integration," GE adds. Boeing will also "support flight tests" of the Saab regional aircraft.
"We're pleased to contribute our extensive research and testing of hybrid-electric propulsion systems – including a long-standing development partnership with NASA – for a project that will no doubt be an important milestone," says Boeing chief technology officer Naveed Hussain.
Boeing will perform "aircraft systems engineering and testing work" at the Manassas, Virginia headquarters of subsidiary Aurora, which specialises in advanced aircraft technologies.
Other of the airframer's facilities in Mississippi and West Virginia will manufacture nacelles for the project.
Last year, GE won NASA contracts worth up to $179 million to support the agency's Electric Powertrain Flight Demonstration programme, which aims to advance the state of electric propulsion technologies for aircraft.
NASA wants such technologies to be in service no later than 2035 on aircraft serving "short-range and regional" flights.