Rolls-Royce may develop the propulsion system that will power Boom Supersonic's in-development, conceptual supersonic passenger aircraft Overture.
The UK engine maker and US aerospace manufacturer have agreed to jointly "explore the pairing of a Rolls-Royce propulsion system" with Overture.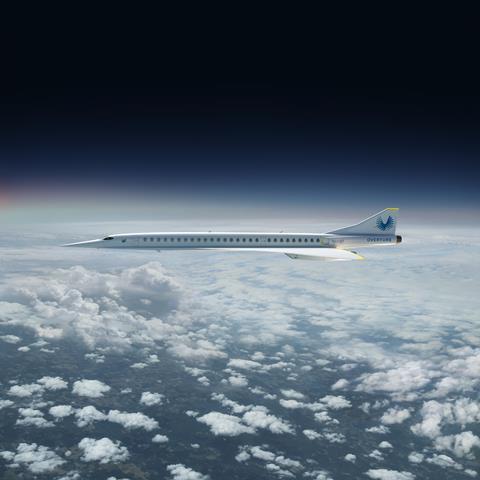 The companies will form teams to study propulsion options, including those making use of existing architectures, they say on 30 July.
"The goal of the new agreement is to work together to identify the propulsion system that would complement Boom's Overture airframe," Boom says.
Denver-based Boom has said Overture will carry 55-75 passengers and fly at Mach 2.2. The company aims to roll out the first jet in 2025 and to use five aircraft to perform flight tests, with certification and service entry in 2029.
The agreement brings R-R into the next-generation civil supersonic aircraft fold. It joins US manufacturer GE Aviation, which is developing the Affinity engine for AS2, a supersonic business jet being developed by Nevada-based Aerion
GE also manufacturers the J85-15 engines that will power Boom's XB-1, an aircraft that the company is developing to demonstrate Overture's design.
"The teams will investigate whether an existing engine architecture can be adapted for supersonic flight, while Boom's internal team continues to develop the airframe configuration," Boom says.
"We're not ruling anything out, but an existing large Trent-based core is one option," R-R tells FlightGlobal. "We're hoping to make significant progress on this first phase of work by the end of this year."
R-R has history of making engines for supersonic jets. Decades ago it partnered with Snecma (now Safran Aircraft Engines) to produce the Concorde's Olympus 593 engines.
R-R also collaborated to develop the Panavia Tornado supersonic fighter's RB199 engines, and is one-third partner of Eurojet, maker of the supersonic Eurofighter Typhoon's EJ200 engines.
"Boom and Rolls-Royce expect to make significant progress towards finalising Overture's aircraft configuration and propulsion system," the companies say.
They also expect Overture to be a "net-zero carbon" aircraft. Boom has cited "sustainable aviation fuels and carbon offsetting" as means of achieving carbon neutrality.
Boom plans on 7 October to publicly unveil XB-1, a one-third scale of Overture powered by three J85-15s. The company has targeted to begin XB-1 flight tests in 2021.