China Aircraft Leasing Group (CALC) intends to order Pratt & Whitney PW1100G engines to power up to 60 additional Airbus A320neo-family jets, marking another win for the US engine manufacturer.
The Hong Kong-based aircraft lessor said on 27 June it had signed a memorandum of understanding to order the geared turbofans (GTFs) for 10 Airbus narrowbodies, with engines for a further 50 aircraft covered by options.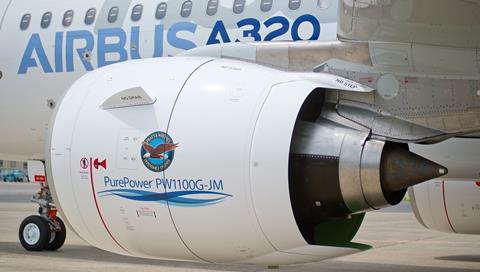 CALC chief commercial officer Winnie Liu notes the lessor is a long-standing PW1100G customer, having been the "first Chinese lessor to select the GTF engine for its A320neo aircraft".
P&W has taken orders and order commitments in 2023 for more than 800 GTF engines, including from customers Azorra, Carlyle Aviation Partners, Binter Canarias, Croatia Airlines, LATAM Airlines, Qantas Airlines and Volaris.
But the company has also been working through significant durability issues particularly affecting PW1100Gs operated in hot and dusty conditions.
During last week's Paris air show, P&W president Shane Eddy said about 10% of GTF-powered aircraft have recently been out of service. The company insists it is addressing the problems through durability improvements.