GE Aviation chief executive John Slattery has repeated a plea to governments and regulators to deliver policies that encourage the uptake of sustainable aviation fuel (SAF).
Slattery, speaking during a Eurocontrol Straight Talk event today, said that although "demand is there", the price and availability of SAF were significant impediments to its increased use by airlines.
SAF currently accounts for about 0.1% of aviation fuel globally, but if an airline the size of Air France or Lufthansa attempted to use the fuel across its entire operation it would "burn the world's SAF in a day", says Slattery.
Airlines and their customers are both keen to use more, he says, "but regulators and policy makers may need to play a role here" in order to incentivise production and use through a "carrot and stick" approach.
"Bringing up the supply will bring the price down," he notes. "But also regulating the percentage of sustainable fuel that would need to be used on board an aircraft – that's the stick."
But Slattery believes that "collectively the industry will get there", and sees SAF as a "stepping stone" to the development of hydrogen power and the "nirvana of zero-carbon flight".
SAF will "play a meaningful role" in the decarbonisation of aviation in the 2030s and into the 2040s, he says.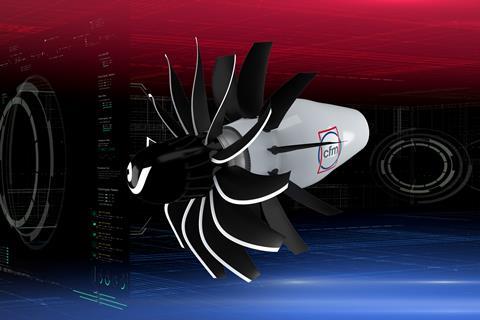 GE and Safran, through their CFM International joint venture, on 14 June announced an engine demonstrator programme called RISE.
Featuring an open rotor architecture, the powerplant is designed to achieve a 20% fuel-burn improvement over current turbofans and will pave the way for a new engine to arrive in the middle of next decade. RISE will be able to burn 100% SAF or liquid hydrogen.
Over 300 different technologies will be matured through the RISE programme, some of which will be introduced to engines already in production, says Slattery, or "engines that might enter service before the 2030s".
But with SAF able to reduce carbon dioxide emissions by 80% over the lifecycle of the fuel, "if you can change the type of fuel that goes into the engine you can reduce [CO2] by a lot more than the 20% we are talking about," he says.
In-production GE and CFM engines are certificated to burn blends of up to 50% SAF; minor hardware modifications will be required to achieve compliance with 100% biofuel use, but "nothing meaningful". Overall it is "very do-able", says Slattery.