CFM International has identified a small number of Leap-1A turbofans possibly containing defective internal components that could cause uncontained engine failures.
That is according to the engine maker and the Federal Aviation Administration, which issued a new airworthiness directive addressing the risk.
The issue affects only 12 Leap-1A engines globally but reflects a broader industry push to understand and prevent instances of high-stress engine components failing, then shooting outward through containment rings and inflicting airframe damage.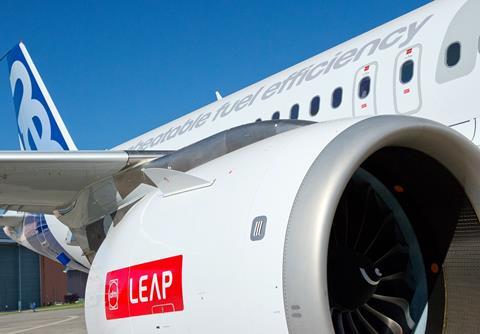 Leap-1As power Airbus A320neo-family jets.
The new issue involves defective manufacturing of engine spools and disks, which could lead those components to fail, says an FAA airworthiness directive (AD) released on 30 June.
CFM caught the issue thanks to enhanced inspection techniques, it tells FlightGlobal.
The engine maker's co-owner GE Aviation stepped up inspections in recent years amid the broader industry's efforts, which following several dangerous inflight engine failures.
The FAA's AD says the Leap issue came to light because CFM found "iron inclusion" in the rotor disks of three turbofans – none of them Leaps.
But that same defective material was used to produce the disks and spools in 12 Leap-1As, says the FAA. The components "may have reduced material properties and a lower fatigue-life capability due to iron inclusion, which may cause premature fracture and uncontained failure".
"The subsequent investigation determined the iron anomaly was introduced during the processing of the raw material used for manufacture," says CFM, which addressed the Leap issue in June service bulletin.
The issue is specific to Leap-1A high-pressure turbine rotor stage one disks and stages 6-10 compressor rotor spools, according to the FAA.
The defect means the parts will exceed their life limits by October, adds the AD, which requires the components be replaced.
The FAA says only one of the 12 affected engines globally is on a US-registered aircraft.
Asked to comment, CFM says, "The issue was detected by enhanced inspection techniques developed by GE as part of an industry-leading enhanced inspection programme to continue to improve the reliability and safety of our engines".
"We have implemented process control actions at the supplier to mitigate issues going forward," adds CFM.
The engine company says it is communicating with the FAA and European regulators "regarding the investigation, our findings and any subsequent recommendations".
The aerospace industry has been working to address the problem of uncontained engine failures following a number of such incidents in recent years.
In 2018, a CFM56 on a Southwest Airlines Boeing 737-700 suffered an uncontained failure that caused engine components to pierce the fuselage, killing one passenger.
A CFM56 on a Southwest 737-700 also failed in flight in 2016. And in 2021, a Pratt & Whitney PW4000 powering a United Airlines 777-200 suffered an uncontained failure shortly after take-off.
News broke in 2020 that the Aerospace Industries Association launched a study to examine the durability of rotating engine components. At that time, GE said it was upping its inspections with an "Enhanced Life-Limited Part Inspection Program".