CFM is confident that the performance improvements likely to be delivered by the next generation of narrowbody airliners can combine with the potential fuel-burn saving from its new RISE technology demonstrator engine to deliver an overall efficiency gain of around 30%.
Unveiling the RISE programme today, Olivier Andries, chief executive of Safran, said that the engine, which promises to cut fuel consumption by 20%, is only "one component of the overall efficiency".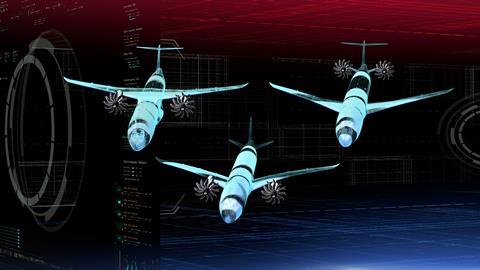 That saving would "be complemented by additional improvements on the aircraft side", he says. "I'm sure a combination could bring up to a 30% improvement by 2035."
Work on the RISE, which features an open rotor architecture, began in 2019 and by the end of the year there will be 1,000 engineers working on the development across CFM's two partner companies Safran and GE Aviation.
An open rotor engine will require CFM to "work closer than ever with our airframe partners" to optimise the integration of the powerplant, says John Slattery, chief executive of GE Aviation.
He says that both Airbus and Boeing have been briefed on the RISE demonstrator and "they are looking forward to the innovations that are going to rise out of what we are going to do".
Andries stresses that CFM is "not targeting [any] specific programme" with the 30,000lb-thrust (133kN) RISE engine; industrialisation will require an airframer to select the engine for a new aircraft, he adds.
"We want to position ourselves by that timeframe to be able to offer the best possible option with the required maturity for that technology."
Neither partner has revealed the level of investment in the RISE programme, but Slattery says it will consume a "substantial" proportion of GE Aviation's total $1.8 billion research and technology budget this year.
In addition, Safran will receive financial support from the French government for the effort through the coronavirus support package for the aerospace industry unveiled last year, says Andries. He is also hopeful that it will also be able to access EU funding for the project.
While CFM is the first engine supplier to have outlined its technology roadmap for the 2030s, Slattery called on its rivals to follow suit and "compete with us" because "ultimately the planet will be the beneficiary".
This article has been edited to correct a figure in the ninth paragraph.