Engine joint venture CFM International has struck an agreement to receive payment from Boeing for all Leap-1B powerplants delivered in 2020.
Although detail of the pact remains "confidential", Safran chief executive Philippe Petitcolin told analysts on a 27 February full-year results call, it covers all Leap-1B production this year.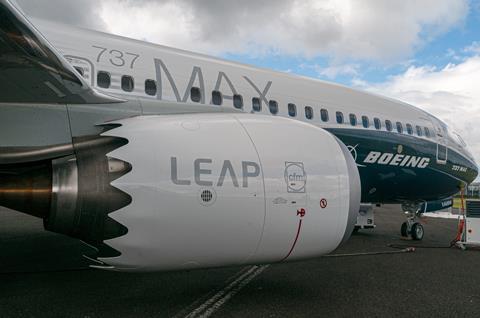 "All engines which are going to be produced in 2020 will be fully covered," he says. The deal, covering the net cost, also includes provision for powerplants built last year, he says, with payments running until 2021 when they "will be complete".
Safran, which is a partner in the CFM joint venture with GE Aviation, has been hit by the year-long grounding of the 737 Max and consequent suspension of production which began in January.
CFM anticipates building 10 Leap-1Bs – the exclusive powerplant on the Max – per week in 2020, although it remains ready to increase output if required, says Petitcolin. Boeing has indicated that deliveries of the narrowbody should recommence around mid-year.
Overall Leap output this year will be around 1,400 engines, including the Leap-1A for the Airbus A320neo family. However, that figure is a reduction on the previous 2,000-unit forecast.
Petitcolin says the 10-per-week rate is the minimum level required to maintain an "industrial" cost for the programme, rather than a "prototype kind of cost".
Any production increases would be agreed with CFM's supply chain, which is already under pressure to meet future rises in support of the A320neo programme; Airbus intends to take narrowbody output to 63 aircraft per month in 2021, potentially rising to 67 by 2023.
Petitcolin says CFM is "more optimistic" about sealing an agreement with Airbus on the rate increase, based on the fact that its "forging [supplier] base" – a previous supply-chain bottleneck – is "today more open to these additional quantities that we are going to request from them".
However, Petitcolin cautions that some smaller suppliers are feeling "a little bit brittle" and require additional assistance from Safran and CFM.
"They have some financial situations which are not so good for some of them and we are supporting them the best we can in order to avoid any big problems for them," he says.