CFM International, the 50-50 joint venture between GE Aviation and Safran Aircraft Engines, will not step into the supersonic engine game, the company's chief executive says.
Speaking in Buenos Aires ahead of the 18th edition of the ALTA AGM & Airline Leaders Forum, CFM's chief executive Gael Meheust on 16 October ruled out a potential supersonic engine programme, saying the company's current focus is elsewhere, and that trying to develop an entirely new class of aircraft engine would only be a distraction.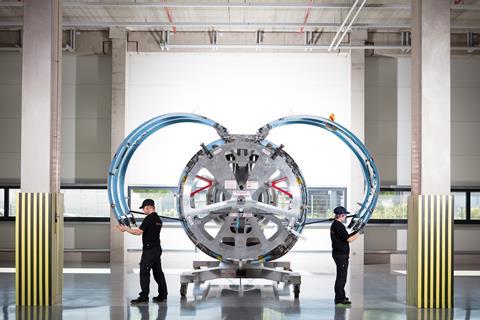 "We are focusing on developing an engine that will be a step-change in emissions and fuel performance," he says. "It's an enormous amount of investment. We are committed to do it full-speed and it doesn't open an opportunity to do something else for what is potentially just a niche market."
Meheust was referring the the company's RISE – or Revolutionary Innovation for Sustainable Engine – programme, launched in 2021. Its goal is maturing technologies for a new powerplant to enter service in the mid-2030s that promises to deliver a 20% fuel saving over current narrowbody engines.
Flight tests using Airbus's 'Flightlab' A380 (MSN1) will be conducted in the second half of the decade from the airframer's facility in Toulouse.
Ahead of that, CFM will perform engine ground tests and flight-test validation at GE's site in Victorville in California.
Meheust's comments come just weeks after UK engine maker Rolls Royce pulled back on a potential collaboration with US supersonic airframer Boom, putting the start-up company in a bind. Boom is developing Overture, a four-engined airliner it says will carry 65-80 passengers, fly at Mach 1.7 and have range of 4,250nm (7,871km). First delivery is scheduled for 2029.
A third engine manufacturer, Pratt & Whitney, declines to comment on the Overture programme, but in September said supersonic civil aircraft were only "tangential" to its core engine market.
So far, both United Airlines and American Airlines have committed to buying the jet. United announced in 2021 that it was taking 15 examples, and American this past August said it "paid a non-refundable deposit on…20 aircraft", part of a deal that also includes 40 options. Virgin Group and Japan Airlines have also placed what Boom calls "pre-orders".
But CFM's Meheust says the sector is not likely large or profitable enough to warrant long-term engineering or financial effort from the engine maker given its existing priorities.
"Is there a market for supersonic? Maybe," he says. "But I don't see that that market is significant enough to divert investment to a supersonic engine."`