CFM International's new push to develop an open-fan engine – a design commonly known as a propfan – marks a return to technology that engine makers developed, then shelved, amid fluctuating oil prices in the 1970s and 1980s.
Back then, as now, propfan interest came amid rising fuel prices. Engine makers today face added pressure to slash carbon emissions.
As before, experts agree propfans have real ability to bring significant efficiency gains to the next generation of commercial airliners – in this case, the jets Airbus and Boeing are expected to bring to market in the 2030s.
But if the past is any indication, propfans are far from a sure bet.
"So much depends on the biggest variable – that is fuel prices," says aerospace analyst Richard Aboulafia with Teal Group. "The economics only work if fuel prices are high."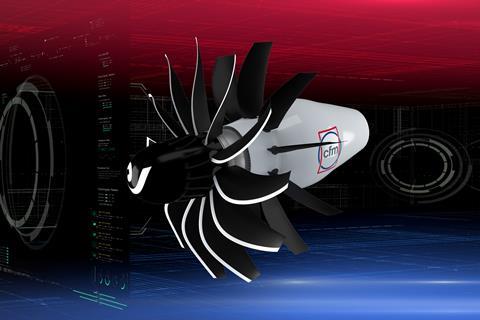 If jet fuel prices stay high – say, north of $80 or $90 per barrel – propfans have a good shot at making their way onto future narrowbody aircraft, Aboulafia says. But, if fuel prices slip, the cost of developing propfans could be difficult to justify.
Jet fuel cost about $77 per barrel at the end of last week, according to IATA.
"It's definitely one of the solutions that really enables Boeing, Airbus – or even Comac – to reach very ambitious targets to reduce [emissions] on the next-generation of airliners," Michel Merluzeau, aerospace analyst with consultancy AIR, says of open-fan engines. "There are lots of things that need to be tested, validated and certified."
On 14 June, CFM's corporate parents GE Aviation and Safran unveiled RISE (short for revolutionary innovation for sustainable engines), a project under which the engine maker will develop "open-fan architecture" and other technologies, including hybrid-electric systems, compact and higher-temperature engine cores and advanced materials.
CFM says it can develop an engine that is 20% more efficient than today's models. Combined with airframe and other improvements, the next narrowbody could be 30% more efficient than today's workhorses, it says. The airline industry has committed by 2050 to slash emissions to half of 2005 levels.
Propfans are similar to turbofans except their fans are exposed – not encased by containment rings and nacelles. The design can allow for increased bypass ratios – and greater propulsive efficiency – without the weight and drag penalties that would come from larger cases.
Through the programme, CFM intends to begin testing an engine demonstrator by mid-decade, followed by flight tests. It expects to bring a new engine to market by the middle of next decade. Also on 14 June, GE and Safran said they were extending the CFM partnership until 2050.
"We will ultimately provide an engine that meets the thrust requirements for the single-aisle market with the same flight speed and engine reliability," says CFM RISE programme executive manager Delphine Dijoud.
Safran chief executive Olivier Andries clarifies that CFM is not launching a new engine but rather an engine "technology maturation and demonstration programme". CFM's timeline aligns with the major airframers; analysts widely expect Airbus and Boeing will bring clean-sheet narrowbodies to market in the 2030s.
Both Toulouse-based Airbus and Chicago-based Boeing declined to comment specifically about CFM's project. "We regularly conduct internal configuration and technology studies, and continuously collaborate with suppliers and partners," Boeing says.
But on 3 June, Boeing CEO David Calhoun expressed pessimism about significant near-term efficiency gains.
"We are not going to get an instant 15 or 20%" efficiency gain with the next powerplant, he said. "They have good things on the drawing board, but in the timeframe of the next part of this decade, I just don't see it."
What aircraft Boeing might develop next remains unclear; in addition to a 737 replacement, analysts suspect Boeing might launch a "mid-market" jet that would sit, size-wise, between a 737 replacement and widebody jets.
Aboulafia does not view CFM's RISE as a commitment by CFM to offering an open-fan engine. Rather, he sees RISE an effort to advance several technologies and to see which ones stick.
CFM says its design will include a gear and single fan. It will be able to burn biofuel, and possibly at some point hydrogen, and capable of being mounted on the rear of an aircraft's fuselage or under its wings.
CFM's move raises the question: how will competitor Pratt & Whitney respond? Currently, P&W and CFM alone control the power market for Airbus and Boeing narrowbodies. P&W has stressed in recent months that it intends to continue improving its geared-turbofan architecture, which is the design behind its PW1000G. The company is also working to improve thermal efficiency.
"We are committed to continued investment in evolving propulsion systems to power the next generation of commercial aircraft," P&W says.
Open-fan designs are proven to be more efficient than turbofans, but the designs present unique challenges, including potential risks caused by blade failures, says Rich Wahls, a technical advisor at NASA Aeronautics.
Turbofans have containments rings, which are designed to catch debris – to prevent uncontained failures, which can damage critical aircraft systems. Engineers must ensure that propfans, which lack containment rings, are safe in the event of failures. Potential solutions can include adding protective plating to an aircraft's fuselage, but that also adds weight, Wahls notes.
Exposed blades also tend to make propfans noisier than turbofans, though CFM insists its design will not be louder than current engines.
Propfans aren't "quite as quiet as if you had a duct", NASA's Wahls says. But, he adds, studies indicate propfans can meet current FAA noise standards.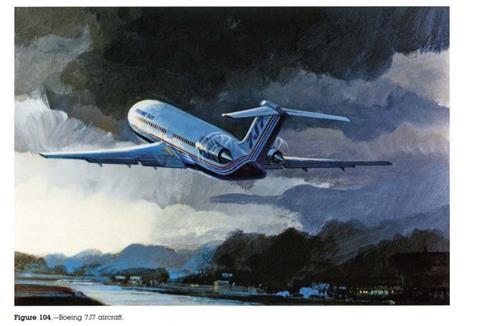 OLD IS NEW
Propfans gained significant industry attention following the early 1970s energy crisis and resulting surge in fuel prices. NASA responded by launching its Intercenter Aircraft Fuel Conservation Technology Task Force, an effort to identify fuel-saving aviation technologies, a 1988 NASA report says.
From that effort came NASA's Advanced Turboprop Project, a programme started in 1978 for the purpose of developing single- and counter-rotating propfan technology capable of powering aircraft at speeds up to Mach 0.85. The agency believed the designs could be 20-30% more efficient than engines in service at the time.
NASA had, in 1976, awarded Hamilton Standard a contract to develop a 60cm (2ft)- diameter model propfan called the SR-1, which had a single rotating fan. Engineers later developed a larger-scale 2.75m-diameter model, according to NASA documents.
Other companies to partner with NASA's propfan efforts included Allison, Boeing, GE, Lockheed, McDonnell Douglas and Pratt & Whitney. NASA later combined Hamilton Standard's propfan with an Allison turboshaft engine, and flight-tested the eight-bladed system using a modified Gulfstream II.
Meanwhile, GE designed a competing engine called an "Unducted Fan" – a "gear-less, counter-rotating pusher system" designed to be mounted on the rear of an aircraft.
During ground tests in 1985, GE's Unducted Fan, called the GE36, "demonstrated a fuel conservation rate of 20%", NASA notes. "The radical dreams of the NASA engineers for fuel-efficient propellers were finally close to becoming reality."
In 1986, GE flight tested its Unducted Fan on a 727, then in 1987 flight tested the engine on an MD-80.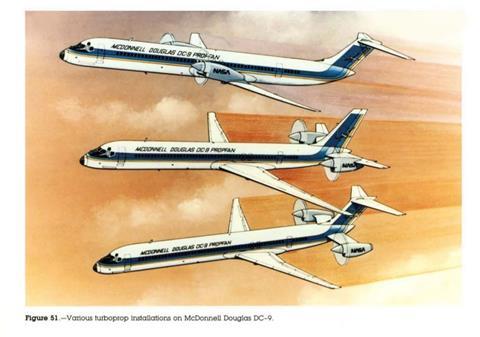 "All indicators pointed to the introduction of the new turboprops on commercial aircraft by the 1990s," NASA documents say.
Airframers evaluated several propfan-powered aircraft for service entry in the 1990s, including Boeing (with a concept called the 7J7) and McDonnell Douglas.
The studies proved propfans were a "technical success", but the designs never made it past the demonstration phase.
Fuel prices intervened.
"Though all the technology and social problems standing in the way of commercialisation were resolved, the advanced turboprop never reached production, a casualty of the one contingency that NASA engineers never anticipated – that fuel prices would go down," NASA says. "Once the energy crisis passed, the need for the advanced turboprop vanished."
Story updated on 22 June 2021 to clarify language about containment rings.