GE Aerospace and its affiliate CFM International have landed new orders from Chinese carriers for both GEnx-1B and Leap-1B turbofans.
The US engine maker and CFM, which GE Aerospace co-owns with Safran Aircraft Engines, disclosed the deals on 5 November.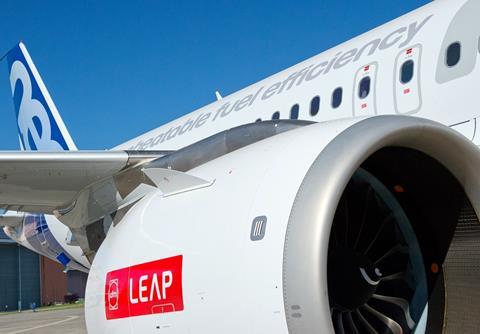 Shanghai-based China Eastern Airlines ordered another 25 GEnx for its fleet of Boeing 787s, while Chinese carrier Xiamen signed up for an undisclosed number of Leaps.
The engine companies say the deals were announced as part of the China International Import Expo in Shanghai.
"China Eastern Airlines will purchase a new batch of GEnx engines and related services, which will support the operation and development of its fleet," says the carrier's deputy general manager Guowei Cheng.
Whether China Eastern's 25 incoming GEnx turbofans will include spares or be for new 787s remains unclear. Neither the airline nor GE Aerospace immediately responded to requests for more information.
China Eastern ordered 15 787s in 2016, started receiving them in 2018 and now has 10 of the jets, which are operated by China Eastern's affiliate airlines China Eastern Airlines Yunnan and Shanghai Airlines, according to Cirium data.
Boeing has yet to deliver the remaining five of the original 15 787s ordered by China Eastern, according to Cirium and Boeing data, though China Eastern's 2022 financial report says it expects to add three 787-9s to its fleet in 2024.
CFM says Xiamen ordered a batch of Leap-1As, including those to power 40 Airbus narrowbodies, among them 25 A320neos and 15 A321neos, and some as spares. The carrier holds orders for those jets but had not previously disclosed whether it would power them with the Leap or Pratt & Whitney's competing PW1100G.
Xiamen also signed a service agreement with CFM under which the engine maker will help maintain the Leaps and the carrier's CFM56 turbofans, which power its 737-800s.
Xiamen's fleet includes 10 Airbus A321neos, 10 737 Max and 120 737-800s, while it holds unfilled orders for 42 A320neo-family jets and for 25 737 Max 8s, according to Cirium.