Collins Aerospace has significantly expanded its additive manufacturing capabilities at a facility in Iowa, part of an effort by the aerospace giant to produce more aircraft engine components via 3D printing.
The company has opened a $14 million, 836sq m (9,000sq ft) addition to its 3D-printing facility in West Des Moines, where it manufactures engine components for commercial and military jets, Collins said on 20 July.
"The new printers will allow the site to explore additive production of these components, building on the multiple land-based turbine components it already has in production," says Collins, a division of RTX. Those "land-based turbine components" include those for use in the energy and marine industries.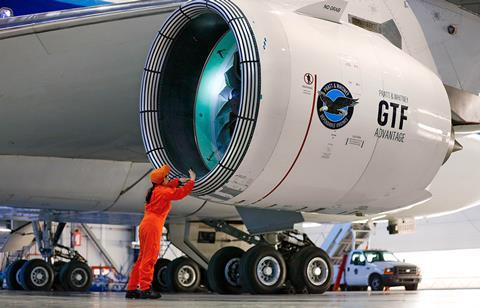 The move comes as the aerospace industry works to overcome supply chain troubles that have left manufacturers struggling to boost production.
Airbus and Boeing executives have specifically cited a lack of engines as hindering output of narrowbody jets, with a shortage of complex metallic components holding up turbofan production.
Collins previously had additive manufacturing capabilities at the Iowa facility but has now added "several new state-of-the art 3D metal printers".
"The first printer installed has eight times the build volume of the facility's existing printers, significantly increasing the centre's additive manufacturing," it says.
The expansion will provide "supply chain relief" and help ensure Collins can support the massive backlog in commercial aircraft, says Renee Begley, head of Collins' West Des Moines facility.
"Additive manufacturing has the potential to help us reduce weight, complexity, lead time and cost in the parts we supply, and this expansion represents an investment in our business to help deliver those benefits to our customers," Begley adds.
Collins also has additive manufacturing facilities in Minnesota, North Carolina and Singapore, and a 3D-printing research facility in Connecticut, home to Collins' sister company Pratt & Whitney.
This story was updated on 21 July to clarify details about components Collins makes for non-aerospace turbines.