Collins Aerospace plans this month to ship a 1MW electric motor to Pratt & Whitney Canada (P&WC), advancing a project to demonstrate a hybrid-electric-modified De Havilland Canada Dash 8.
"It will be [shipping] in the next few weeks, toward the end of September," Collins senior technical fellow for power and controls Todd Spierling tells FlightGlobal.
He adds that the 1MW motor, which Collins has been developing in the UK city of Solihull, is meeting expectations.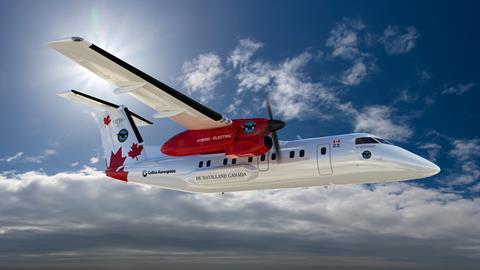 "With the motor, we had certain goals for power density, for efficiency. Our testing is showing that we're there," Spierling said on 6 September during an aerospace event in Montreal. "We seem to be achieving what we hoped for and what the application needs."
Collins squeezed 98% efficiency from the 1MW motor, meaning 20kW is lost to heat, with 980kW driving the engine's shaft, says Spierling.
Collins and P&WC – both divisions of Raytheon Technologies – are leading development of the hybrid powerplant, and working with De Havilland to equip a Dash 8-100 with the system. They call the project the Canadian Hybrid-Electric Demonstrator.
The companies will spend roughly two years integrating and testing their hybrid system, preparing for first flight on the Dash 8-100, scheduled for 2024, says P&WC executive director of new products and services Jean Thomassin.
Testing will be done in Montreal suburb Saint-Hubert and with assistance from Canadian flight-test and research company Cert Center Canada, Thomassin adds.
The hybrid system will consist of the 1MW motor mated to a 1MW fuel-burning engine, for a combined 2MW of power. It will have a "parallel-hybrid" architecture, meaning the motor and engine can each turn the prop, says Thomassin.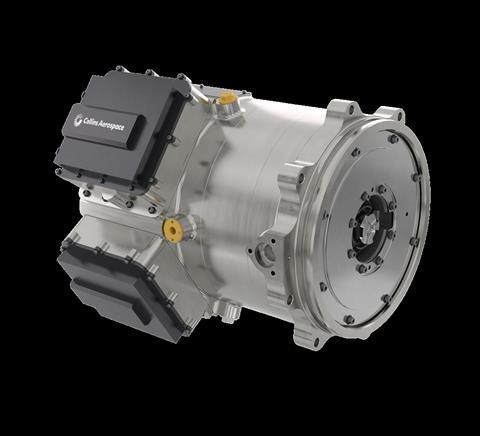 P&WC declines to specify which fuel-burning engine it will use for the system, saying only that the engine "will be an optimised design for the hybrid-electric application".
Then comes Dash 8-100 integration work.
The partners plan to replace one of the Dash 8's two PW100 turboprops (each of which generate about 2MW of power) with the 2MW hybrid system.
P&WC says the technology could reduce fuel burn by 30%.
Another partner is Swiss battery maker H55. The project also has financial aid from the governments of Canada and Quebec, P&WC has said.
Spierling stresses that hybrid-electric propulsion requires equipment capable of handling significantly more electric power than is typical for modern aircraft.
"They are very high power [and] high voltage," he says of the 1MW motor.
For comparison, the 1MW motor produces four times the power as the 250kW Collins-made generators found on Boeing 787s, but is only 1.5-times the size. Each 787 has six of those generators.
Because electric aircraft must not carry around all that equipment, the 1MW motor needs to be exceedingly lightweight, compact and efficient. "Weight and size and efficiency are much more important in this type of application," Spierling says.
Through development and flight testing, Collins and P&WC intend to prove the viability of their hybrid system ahead of offering such technology for commercial use.
Longer term, they envision developing a hybrid variant of Pratt's PW1000 geared turbofan for powering narrowbody passenger jets.
Because PW1000Gs throw off about 20MW of energy, supplementing them with a 1MW motor would not deliver anywhere close to 30% fuel savings. Rather, the gain would be about 5%, Spierling says.
"We don't really just replace fuel with electricity. We kind of use the electricity to allow the fuel burning part to be better," says Spierling.
Story updated to note that 787s have six 250kW generators, not four, per new information from Collins.