The Federal Aviation Administration is requiring airlines perform checks to prevent storage-induced corrosion issues involving CFM International Leap-1B engines.
The agency issued an airworthiness directive (AD) this week to address the concern, which it says can lead to degraded thrust.
The order comes as airlines return 737 Max to service after storing the jets amid the 20-month grounding, and the pandemic. Europe's regulator issued a related AD last month.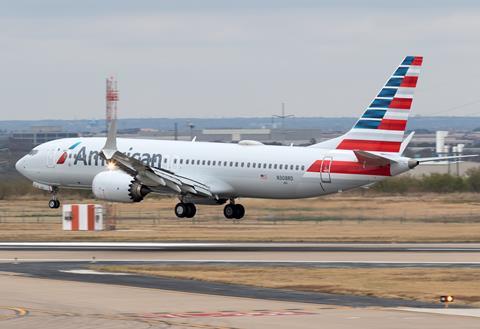 The checks must be completed before each flight during the first 15h of power being applied to engines following prolonged storage.
The order responds to reports from CFM of "multiple instances" of faults with the "pressure sub-system" (PSS) units in Leap-1Bs, which power Boeing 737 Max.
"The manufacturer reported these faults have been occurring since October 2020 and are a result of pressure transducer corrosion following extended storage periods," says the FAA's AD.
It cites "moisture ingress from long-term on-wing storage, coupled with certain manufacturing processes of the affected pressure transducers".
"These conditions can cause corrosion and subsequent electrical shorting of the pins in the pressure transducer," it says. "This short can result in transmittal of erroneous pressure sensor signals to the electronic engine control."
The end result can be a loss of engine thrust.
CFM, which addressed the concern in a 24 April service bulletin, determined it occurs in the first 15h during which PSS units receive electrical power following prolonged storage.
The FAA's AD, which takes effect on 10 May, requires airlines check engine-maintenance messages related to pressure transducers during those first 15h. Carriers may also apply electric power to the PSS units for 15h, negating the need for repeated checks.
Airlines will need to replace the PSS units if certain maintenance faults are discovered.
The FAA's order applies to 158 Leaps installed on US-registered aircraft, it says.