MTU Aero Engines is convinced that the dynamics of the narrowbody market are likely to prevent an open-rotor design from being adopted on a future single-aisle due to the need to preserve customer choice.
"I'm pretty confident that the open rotor won't happen [as a product]. People want choice on narrowbodies," Michael Schreyogg, MTU chief programme officer, said at the Dubai air show.
"Customers need competition under-wing. With on open-rotor engine how do we organise this competition? It is something I cannot imagine."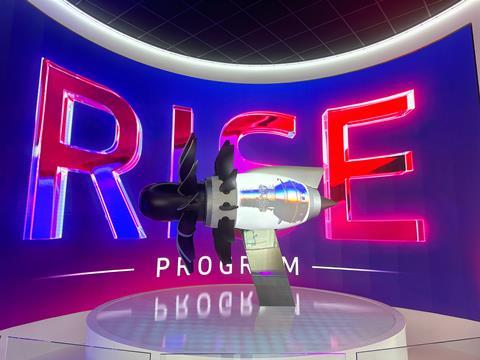 Airbus has always offered two powerplant options on its A320 family, a strategy enabled by the design similarities between conventional turbofans, which eliminate the need for any radical changes in airframe integration between them.
But this may not hold true in the future. CFM International – which supplies its Leap-1A for the A320neo – is working on an open-rotor demonstrator under its RISE programme which will need to be attached to the wing in a very different way to current turbofans.
In contrast, MTU is working alongside Pratt & Whitney to develop technologies that could equip a next-generation version of the latter's geared turbofan (GTF); MTU is a risk- and revenue-sharing partner on the current PW1100G for the A320neo, with an 18% share of each engine.
Although the internal architecture of any future engine is likely to be differ significantly from the present GTF – potentially including MTU's Water Enhanced Turbofan concept – it will still be housed in a nacelle and the airframe integration required will not preclude a competing turbofan design also being offered.
Schreyogg stresses that his view is not a criticism of open-rotor technology but is a "purely commercial argument".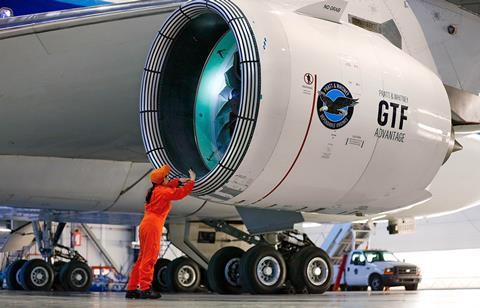 Discussions around new programmes can focus "too much about the technology", he says, but ultimately what the end-user wants is "for the engine to be robust… [and] to have competition in the market when you sell the engine and in the aftermarket when you service the engine.
"There are mass-market needs on the narrowbody side. How do you organise a competition with such an open-rotor concept?"
Airbus is thought to favour continued competition, but may be forced to abandon that if an open-rotor design proves the more efficient solution.
Besides, before Airbus even considers the merits of either concept, their respective manufacturers must first prove that any engine can deliver a fuel-burn reduction in the order of 25%.
On that point, however, Schreyogg is confident: "The right technology for the next generation [of aircraft] is the GTF and whatever the evolution of it will be."
But a pressing near-term priority is to resolve the durability issues that continue to plague the GTF programme, the latest of which – caused by a manufacturing error – will see thousands of engines removed from aircraft over the next three years. MTU in its third-quarter results disclosed a €1 billion ($1.1 billion) one-off charge related to the problem.
Schreyogg says the initial wave of engines is already entering its MRO facilities and MTU is working with P&W on initiatives to reduce turnaround times.

Dominic Perry is deputy editor of Flight International but also contributes extensively to flightglobal.com. Although specialising in the coverage of the helicopter industry, he has written on most topics in aerospace – be they commercial, defence or business aviation. In addition, there has been an increasing focus on the decarbonisation of the industry and zero-emission flight initiatives.
View full Profile