RTX executives insist Pratt & Whitney (P&W) has a workable plan to address a defective disk problem that forced it to recall hundreds of PW1100Gs engines and pushed the company deep into the red during the third quarter.
"I believe we have our arms around the operational and financial impact of the powdered-metal issue," RTX chief executive Greg Hayes said during the company's third-quarter earnings call on 24 October.
"We made a number of systemic changes at Pratt's powder-metal processing facility, both manufacturing process changes and [with] inspection techniques," adds RTX chief commercial officer Chris Calio.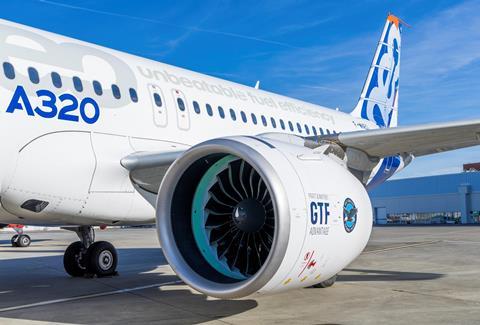 Despite such assurances, the issue stands to disrupt the global aerospace industry significantly. The recalls will force hundreds of Airbus A320neo-family jets to be grounded at any given time in the coming years.
RTX disclosed earlier this year that more than 1,000 PW1100G geared turbofans (GTFs) might have high-pressure compressor and turbine disks subject to a defect caused during a manufacturing process involving powdered metal.
The scope of the issue led RTX to take a $2.9 billion charge against its third-quarter results. As a result, P&W lost $2.5 billion over the period. Profits from its other divisions – Collins Aerospace and Raytheon – mitigated RTX's loss, which came to $984 million.
P&W has responded to the problem by requiring PW1100Gs be inspected every 2,800-3,800 cycles and by capping disks' lives at between 5,000 and 7,000 cycles. It also intends to replace affected disks.
The company expects the problem will require, between now and 2026, operators to remove 600-700 PW1100Gs from service for maintenance earlier than previously expected. Two thirds of those removals will happen this year and early next, leaving hundreds of aircraft grounded, RTX chief operating officer Chris Calio says.
P&W has already removed an initial tranche of PW1100Gs from Airbus jets for the unscheduled maintenance. Some of those powerplants needed only "project visits", meaning inspections rather than parts replacement, which take only about 35 days, says Calio.
P&W is ramping up production non-defective disks.
"Our objective is to replace as many…disks as possible with full-life disks when engines come in for a shop visit," Calio says. "We previously made the necessary powdered-metal production…investments and now are increasing our machining and inspection capacity."
P&W expects to begin installing the new disks in production PW1100Gs during the first quarter of 2024 and in used engines during the second quarter. If it lacks enough of the improved disks, P&W intends to return engines to service following inspections and complete the disk swaps at a later time – a scenario it aims to avoid.
Calio stresses P&W is ramping up its maintenance capabilities to take on the additional work, saying it is expanding operations in Singapore and authorising new third-party GTF maintenance providers. For instance, Spanish airline Iberia should come online as a GTF servicer before year-end, and China Airlines' and Korean Air's maintenance shops recently started GTF work, Calio says.