In a move responding to inflight engine shutdowns, the Federal Aviation Administration is requiring airlines to replace components in the high-pressure compressors (HPC) of Pratt & Whitney PW1500G and PW1900G turbofans.
The requirement, detailed in an airworthiness directive (AD) released on 18 August, follows a redesign by P&W of HPC components, regulatory documents say.
PW1500Gs power Airbus A220s and PW1900Gs power Embraer 190-E2s and 195-E2s.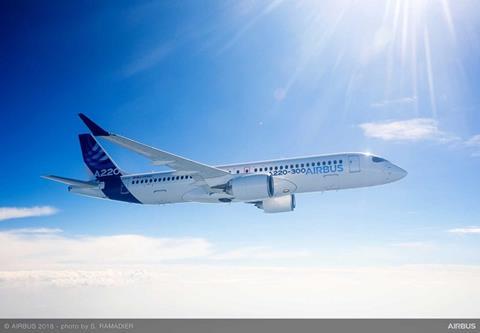 The order is the FAA's response to "reports of cracks in the HPC rotor shaft that resulted in vibration and subsequent" in-flight engine shutdowns and unscheduled engine removals.
Documents provide no details about those events. P&W did not respond to a request for comment, but the Hartford-based engine maker has issued service bulletins to address the issue.
The FAA's order takes effect on 22 September and affects 88 engines installed on US-registered aircraft.
It will require airlines to replace the "front hub" and "rotor shaft" in the high-pressure compressors of affected engines. Airlines will need to complete the work during the first engine shop visit.
P&W, in evaluating the problem, determined that high-pressure compressor rotor shaft threads "were not optimised for load distribution, which resulted in vibration stresses". In one case, "oil was released at the high-pressure turbine disk bore location", the order says.
P&W has since redesigned the front hub and rotor shaft "for increased durability and decreased vibration stress".
The redesigned components are made from nickel, "to help with corrosion resistance". P&W also changed the rotor shaft threads to "help distribute the load on the threads and decrease vibration stress", the FAA says.