The Federal Aviation Administration has given airlines roughly one month to inspect some Pratt & Whitney PW1000G-series turbofans for high-pressure compressor cracks, after the engine maker last month disclosed that widespread inspections were needed.
The US government on 18 August released an FAA airworthiness directive (AD) that builds on previous agency efforts to address a "material anomaly" issue affecting components in both PW1000Gs and International Aero Engines (IAE) V2500s.
P&W part-owns IAE and supplies V2500 high-pressure turbines and compressors.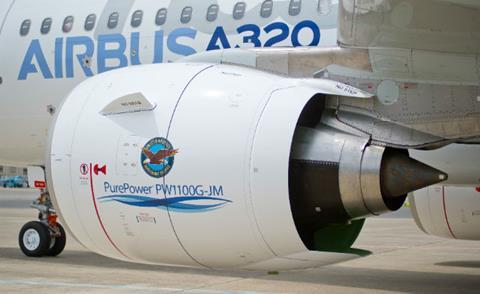 The FAA's latest order requires more PW1000Gs be inspected and follows the 24 December 2022 aborted take-off of an Airbus A320neo.
That jet's pilots rejected the take-off due to failure of a "seventh-stage integrally bladed rotor" in the high-pressure turbine (HPT) of a PW1100G, the FAA's order says.
"Following this event, the manufacturer conducted a records review of production and field-returned parts, and re-evaluated their engineering analysis methodology. The new analysis identified HPT first-stage hubs and HPT second-stage hubs that are susceptible to failure much earlier than previously determined," it adds.
The FAA does not disclose more detail about the 24 December 2022 event, but a report from French aviation safety investigation agency BEA says pilots of an A320neo operated by Mexican carrier Viva Aerobus rejected a take-off at Guadalajara on that day due to an engine failure.
The FAA's order requires airlines to complete ultrasonic inspections of the high-pressure turbine first- and second-stage hubs" in PW1100Gs, which power A320neos, and PW1400Gs, which P&W developed for Russian firm Irkut's MC-21. (Sanctions, however, have led Russia to focus on powering that jet with Russian-made Aviadvigatel PD-14 engines.)
The FAA says the latest inspection requirements apply to only 20 powerplants installed on US-registered aircraft, but that engines outside the USA could be affected. It declines to say how many.
Airlines will need to complete the inspections within 30 days of when the order is published in the USA's federal register, which is scheduled for 22 August.
P&W declines to comment.
In July, the engine maker disclosed that some 1,200 GTFs will need inspections over the next year, citing risk that components in high-pressure turbine disks might have been manufactured using "contaminated" powered metal, Greg Hayes, chief executive of P&W parent RTX, said on 25 July.
That news came as P&W was already under immense pressure to address operational issues. In June, P&W president Shane Eddy said durability problems and other issues had left about 10% of PW1100G-powered A320neos out of service.
The FAA had previously sought to address a similar metal-contamination issue with other ADs targeting PW1100Gs and V2500s.