The Federal Aviation Administration plans to publish an airworthiness directive (AD) this week to address an issue involving Continental Aerospace engines.
The AD, which the FAA says affects 1,632 engines, was expected after Continental issued a mandatory service bulletin to aircraft owners on 13 February, following unspecified "safety issues" first publicly reported by Cirrus Aircraft earlier this month.
The US aviation regulator says the AD, which will be published in the Public Register later this week, has "stricter inspection requirements" than the engine maker's service bulletin.
"The Federal Aviation Administration issued a final airworthiness directive to address potential improper component installations in the crankshafts of certain Continental Aerospace Technologies engines," the US regulator said on 21 February. "The issue could lead to engine failure and damage."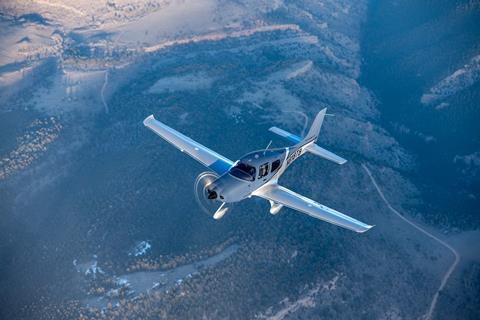 In the AD, the FAA said it received a report of a "quality escape involving improper installation and inspection of counterweight retaining rings in the engine crankshaft counterweight groove during manufacture", as well as "two ground engine seizures and one in-flight loss of engine oil pressure due to improper installation of the counterweight retaining rings during manufacture".
"Loosening of a counterweight retaining ring may result in the loss of retention of the counterweight," the FAA says. "This condition, if not addressed, could result in loss of engine oil pressure, catastrophic engine damage and possible engine seizure."
"Owners must inspect these engines before further flight to verify that the crankshaft counterweight retention ring is properly installed, and take corrective actions if necessary," it adds.
On 8 February, Cirrus Aircraft, the Duluth-headquartered maker of high-performance single-engine aircraft often used for training, grounded its own Continental-powered SR22 and SR22T fleet after discovering an engine "issue". The grounding was for Cirrus-owned and operated aircraft only, but was revealed in an email to all owners of the types.
Two days later, Continental acknowledged the "potential safety of flight issue for aircraft equipped with Continental 360, 470, 520, 550 series engines and replacement crankshaft assemblies", and recommended operators ground their aircraft pending a service bulletin.
The advice also applied to replacement crankshaft assemblies manufactured during the same timeframe, the company said at the time. The service bulletin on 13 February instructed owners and operators of affected aircraft with less than 200 operating hours to inspect them "immediately", and advised a repair.