Airlines may no longer need to repeatedly inspect low-pressure compressor (LPC) rotors in Pratt & Whitney PW1500G turbofans, which power Airbus A220s.
The US Federal Aviation Administration has issued a proposal to strike the required inspections – but only for PW1500Gs updated to have the latest full-authority digital electronic control (FADEC) software.
FADECs control multiple aspects of engine performance.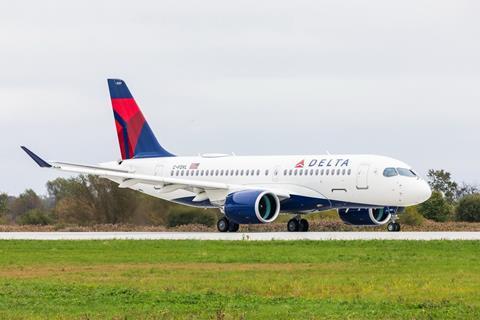 The proposal, published on 26 March, is the FAA's latest regulatory response to a series of LPC failures involving A220 engines.
In 2019, the FAA required initial and repeated borescope inspections of PW1500G LPC rotors, a move responding to an in-flight LPC rotor failure and cracks found in the rotor.
The FAA addressed the same issue in 2020, when it ordered airlines to remove and replace certain versions of the PW1500G's FADEC software. By that time, LPC failures had promoted four PW1500G in-flight shutdowns, the FAA said.
Swiss-operated A220s were involved in three in-flight PW1500G shutdowns in 2019, and pilots of an Air Baltic A220 shut down an engine in 2020.
Since the 2020 order, P&W determined the cause of the problem. It found that "vane schedules" were causing "acoustic resonance", which was damaging LPT rotors, according to the FAA.
"The manufacturer performed further root-cause analysis of the LPC [rotor] failures and determined the need to update the… FADEC software to automate rotor speed management and limit the maximum climb and maximum continuous thrust ratings," says the FAA's latest proposed AD.
The updated software prompted the FAA's latest proposed rule. If finalised, it will require airlines to equip PW1500Gs with the newest software. Also, engines with the software will no longer be subject to the requirement of repeated borescope inspections.
The acoustic resonance issue is also suspected of posing a risk to PW1900G powering Embraer E-Jets E2. Both powerplants are geared turbofans with similar architectures. As a result, Brazil has ordered operators to update PW1900G FADEC software.
P&W confirms it "recently introduced a software update to the PW1500G and PW1900G fleet which automates an engine speed restriction to mitigate a condition that could lead to an issue with the engine's low-pressure compressor".
"We expect that this automation will reduce pilot workload and eliminate current engine inspection requirements," P&W adds. "In addition, an updated hardware design to relieve this speed restriction has been validated through engine testing and is estimated to be available to new and overhauled engines before the end of the year."
Story updated on 29 March to include comments from P&W in the preceding two paragraphs.