Making its air show debut at ILA Berlin is newly rebranded Maeve Aerospace – the Dutch electric aircraft start-up previously known as Venturi Aviation.
Maeve announced its new identity on the eve of the show, alongside an initial €3.4 million ($3.56 million) investment from a number of undisclosed backers.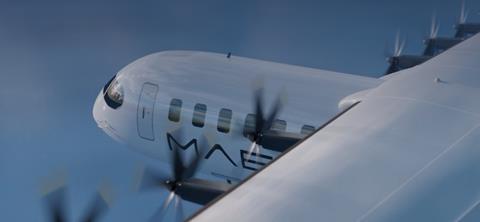 But a bigger change to the architecture of the all-electric Maeve 01 is potentially on the cards, says founder Jan Willem Heinen.
That will see the number of electric motors reduced from eight in early concepts down to six.
"The reason why we went for eight in the first place was that we could not find motor suppliers who were willing to go beyond 1.2MW.
"Now going beyond 1.5MW is not a question, it is going to happen," he says.
Maeve needs a power requirement of a little over 1.5MW per motor for the 44-passenger aircraft, says Heinen.
While the decision to change the configuration is "90% made", he cautions that "we will only go if we are fully convinced".
The Maeve 01 will be powered solely by batteries, have a range of around 550nm (1,020km) at service entry in 2030 and a maximum take-off in the region of 45t.
Heinen says the investment will enable the fledgling company to "ramp-up the team" and rapidly iterate designs of its powertrain system. Major announcements are planned for March next year, he adds.