GE Aerospace turned a $1.5 billion profit in the second quarter of 2023 as the company significantly increased the pace of its commercial aircraft engine deliveries.
Parent General Electric reported the profit on 25 July, noting also a sharp uptick in GE Aerospace's sales of aftermarket services and military products.
The Ohio engine maker's $1.5 billion second-quarter profit is 29% more than its profit in the same period last year, reflecting a bump in revenue, which jumped 28% year-on-year to $7.9 billion last quarter.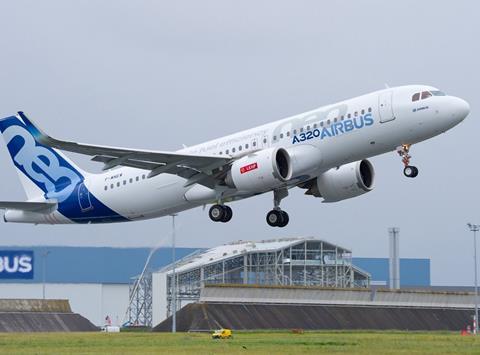 "GE Aerospace is growing rapidly, executing on the ramp for customers and building services strength," says Larry Culp, chief executive of both GE Aerospace and parent GE.
The aerospace company has recently succeeded in accelerating aircraft engine production and deliveries, particularly of the CFM International Leap turbofans it produces in partnership with Safran Aircraft Engines.
GE Aerospace delivered 543 commercial aircraft engines in the second quarter, up 53% from 355 deliveries in the same period last year. Those included delivery of 419 Leaps last quarter, up 85% from 226 one year earlier. Leaps are the sole power for Boeing's 737 Max and one of two options for Airbus' A320neo-family jets.
On the defence side, GE Aerospace delivered 228 engines last year, up 74% in one year.
Business improvements have led GE to predict better 2023 results. It now anticipates GE Aerospace's full-year 2023 revenue will increase up to 20% year on year, changed from a previous expectation of a "mid-to-high teens" bump.
Additionally, GE thinks the aerospace business will turn a $5.6-5.9 billion 2023 operating profit, up from its earlier $5.3-5.7 billion expectation.
GE Aerospace and competitor Pratt & Whitney have been working to increase engine production to fulfil demand from Airbus and Boeing. GE's Culp earlier this year said skilled-worker shortages were the prime factor holding up engine output.