Despite supply chain struggles, turbofan producer GE Aviation insists it will succeed in ramping Leap production sufficiently to meet production goals set by Airbus and Boeing.
"We are aligned with the airframers on what we need to produce through 2023, and we are solidifying what we need to do for 2024," GE Aviation chief executive of commercial engines Kathy MacKenzie says on 10 March.
"We are confident… that we will meet our commitments to the customers," she adds, speaking during General Electric's investor day on 10 March.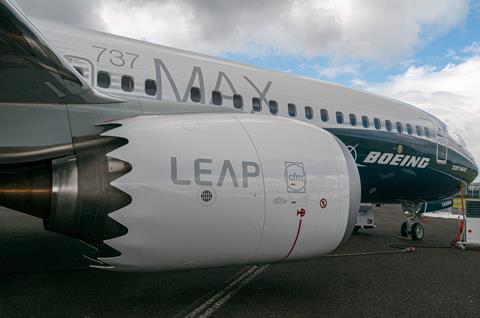 MacKenzie does, however, call attention to the scope of the challenge facing GE and partner Safran Aircraft Engines. GE and Safran jointly own CFM International, which produces Leaps.
"We are again experiencing an unprecedented ramp in Leap production," she says.
Therein lies the challenge.
After slashing staff, cutting production and shuttering facilities amid the Covid-19 pandemic, suppliers across the commercial aerospace sector are working frantically to get back up to speed. Some companies went belly up during the pandemic. Others shed staff and have been unable to find suitable replacements.
Such factors are hindering the ability of suppliers to increase production, particularly of complex engine components, aerospace analysts say. Suppliers are trying to keep pace with Airbus and Boeing, which are eager to bring output back to, and above, 2019 levels.
Airbus aims to produce 65 A320neo-family jets monthly by summer 2023, while Boeing is working to hit a 31-per-month 737 rate.
The sector faced the same pressure before Covid-19, when Airbus and Boeing were racing to best each other with increasingly rapid production rates. Back then, CFM International and competitor Pratt & Whitney were struggling to keep up.
CFM intended to deliver 900 Leap engines in 2021 but ended up short, with 845 deliveries. On 24 February, Safran CEO Olivier Andries cited "shortages of parts, especially coming from [CFM's] US supply chain".
"I would like really to stress the fact that the supply chain has been extremely fragilised. The situation is extremely acute in the USA," he said.
Challenges aside, CFM intends to hike Leap production to about 2,000 engines in 2023, according to a GE presentation. The company has not disclosed 2022 Leap production targets.