GE Aviation's production of aircraft turbofans remains behind schedule due to factors including parts and labour shortages.
Executives at the engine manufacturer's parent General Electric discussed those challenges on 26 July, stressing that the company is working to address underlying forces hindering its ability to get enough turbofans to Airbus and Boeing.
"Our major airframer customers need more engines from us than we are providing," GE Aviation chief executive Lawrence Culp told investors. "The supply chain challenges in the aerospace industry are far broader than any one commodity."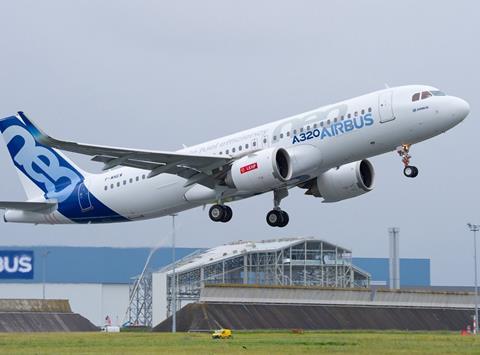 Culp made his comments the day General Electric reported its second-quarter financial results.
GE Aviation turned a $1.1 billion profit in the second quarter, up from a $176 million profit in the same period of 2021. The engine maker's revenue jumped 27% year-on-year in the second quarter to $6.1 billion. Executives say they are seeing particularly strong demand for engine aftermarket services.
But turbofan deliveries – particularly those produced by GE affiliate CFM International – remain depressed.
CFM, which GE co-owns with Safran, delivered 226 Leap turbofans in the second quarter, up slightly from 211 deliveries in the same period last year.
In the first half of 2022, CFM handed over 465 Leaps, up from 399 in the first half of 2021.
Leaps power Boeing 737 Max and are one of two options powering Airbus A320neo-family jets, the other being Pratt & Whitney PW1100Gs.
"We are seeing signs of improvement" in engine deliveries, Culp says.
Still, delivery figures were significantly higher in pre-pandemic 2019. In the first half of 2019, for instance, CFM delivered 861 Leaps, nearly twice its current output.
Speaking to investors, Culp says deliveries have "been a challenge," adding, "The industry is experiencing an unprecedented ramp as the pandemic eases, coupled with labour and material shortages".
Boeing has also pointed to CFM as holding things up.
"Our big focus today is on engines… that's one of our big constraints," Boeing Commercial Airplanes CEO Stan Deal said on 17 July. Engine shortages, Deal added, are Boeing's "number one" production constraint.
GE is not alone in facing such production challenges; P&W has been struggling with the same problems.
"This is something we are grappling with broadly," GE's Culp says. He adds that GE is working with suppliers of cast and forged engine components to increase production.