GE Aviation will implement a hiring freeze and reduce 2020 spending in response to a new 737 Max agreement with Boeing, while contending with an expected $200-$300 million first-quarter hit from the coronavirus outbreak.
The engine maker will also restructure operations in response to the new Boeing deal, GE Aviation chief executive David Joyce says during a 4 March investor conference.
News broke in February that CFM International, which is co-owned by GE and Safran Aircraft Engines, struck a new deal with Boeing covering payment terms and engine production schedules. It calls for Boeing in 2020 to pay CFM for Leaps upon delivery to Boeing, and to pay for some Leaps delivered to Boeing in 2019.
By contrast, engine makers often receive final payment upon delivery of aircraft to customers.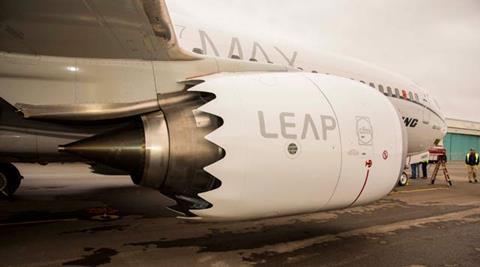 CFM now intends to produce 10 Leap-1Bs weekly in 2020 and a total 1,400 Leaps – including the Airbus A320neo's Leap-1A – in the full year. The company had at one point expected to produce 2,000 Leaps this year. It produced 1,736 Leaps in 2019.
"This, or course, has resulted in more capacity than we need for the Leap programme, both at GE and in our supply chain," Joyce says.
The company will be "reallocating" some of its capacity to other projects, including military projects, that have been "constrained" by a tight supply chain, Joyce says.
Executives also warn the coronavirus outbreak will likely reduce first quarter operating profit of parent GE by $200-$300 million in the first quarter.
"The year-on-year decline in the first quarter is primarily driven by aviation, due to COVID-19, and lower progress as a result of the 737 Max grounding," says GE chief executive Lawrence Culp.
GE anticipates releasing first quarter financial results on 29 April.
GE has some 18,000 employees in China, including 2,000 in Hubei Province, which has been hardest hit by the virus outbreak. Though the virus led to shutdowns of GE sites in China, most of those sites reopened in February, though at lower levels of production, Culp says.
Departure in China of aircraft equipped with GE products declined 60% between January and February, according to the company.
"Recently this has become a global issue, and we have full-scale global preparations underway," says Culp. "At a high level, we are seeing impact on air traffic demand, commercial demand in China and within our supply chain."
GE Aviation anticipates its 2020 revenue will increase in the low single-digit range year-over-year. It generated $32.8 billion in 2019 revenue. The virus will shave an estimated $200-$300 million off GE Aviation's first quarter cash flow, GE estimates.
Though the full impact of the coronavirus remains unknown, underlying aerospace industry strengths give Joyce optimism.
"We see very… strong underlying fundamentals in the industry," he says.