Boeing and GE Aerospace remain slightly at odds about the actual fuel-efficiency gains possible with CFM International's in-development open-fan demonstrator engine.
GE insists the powerplant will burn 20% less fuel than current engines.
But Boeing Commercial Airplanes chief executive Stan Deal doubts that GE's open-fan design, when actually installed on the wings of a future aircraft, will hit the 20% target.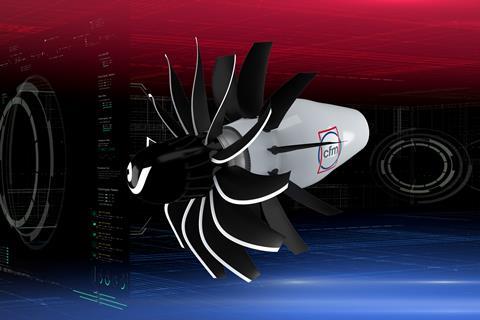 The disagreement came to light in recent days in Paris. GE has been heavily promoting its open-fan engine concept, which CFM International is developing under its Revolutionary Innovation for Sustainable Engines (RISE) demonstrator programme. GE and Safran Aircraft Engines jointly own CFM.
Speaking on 18 June, Deal said GE's 20% target is based on an stand-alone engine, not a powerplant integrated on to an aircraft.
"They are reporting numbers uninstalled. Every engine runs better uninstalled than installed," Deal says. "There is always a knock-down effect to get to pure fuel burn."
He declines to specify Boeing's efficiency estimate for an open-fan engine but makes clear the company has not picked an propulsion design for its future aircraft.
"We haven't selected an engine," Deal says. "RISE is an option. Conventional engines continue as another option."
Deal says Boeing is pursuing various technologies that, taken together, could help its next aircraft be 20% more fuel efficient, including a truss-braced wing and greater use of composite materials.
Boeing is widely expected to bring its next aircraft, a 737 replacement, to market in the 2030s.
GE vice-president of engineering Mohamed Ali, however, insists an open-fan architecture will be capable of hitting the 20% target even when installed. Such engines allow for significantly wider fans and, hence, higher bypass ratios, without the drag and weight penalties imposed by nacelles.
"When we talk about 20% improvement, it's actually including the installed conditions," Ali says. "That is compared to today's fleet… All of our models are actually indicating that."
But Ali also specifies that reaching the goal will require improvements to how open-fan powerplants are actually installed.
"Part of the technologies that need to be matured and improved [are]… the installation in the most-efficient way," he says. "That's one of the key aspects [to] it actually working."
GE has placed a huge bet on RISE, positioning the open-rotor as its prime offering for the next generation of narrowbody jets.
"We need this. The industry does… and this planet does," he says. "We need that level of fuel burn improvements… It's going to be a shame to leave [that] fuel-burn improvement on the table."