GE Aviation has been making strides with its Affinity supersonic engine, planning for operational and performance tests later this year while keeping details of the design under wraps.
The Ohio company is working closely with Aerion Supersonic, which selected the roughly 20,000lb-thrust (89kN) Affinity to power its in-development AS2, an eight- to 10-passenger supersonic business jet.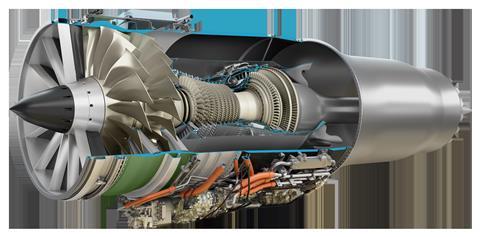 Aerion's timeline calls for the three-engined AS2 to complete first flight in 2024, followed by a 2026 service entry.
"We continue to be reluctant to reveal the final core design until after product design review," says GE, adding that the engine will be based on "technology derived from GE's current commercial airline engine family".
GE insists the Affinity programme is anything but an academic exercise. The company has "hundreds of engineers" assigned to the project – a number that could triple by year-end – and views Affinity as the first member of a new family of "medium-bypass" supersonic aircraft powerplants.
"We are building a technology suite so we can add additional engines," GE says. "The future evolutions of Affinity engines could power further generations of Aerion supersonic jets, including larger commercial applications."
GE has incorporated military and civil engine technology into Affinity, which will have two fans, a 60,000ft service ceiling and meet stringent aircraft noise regulations, according to the company.
GE says it designed Affinity for efficiency both at supersonic and subsonic speeds – important attributes because of the USA's long-standing ban on supersonic flight over land.
But the Federal Aviation Administration is now developing new supersonic rules and says boom-softening technologies could permit the ban to be lifted.
Aerion is working toward that goal. It intends to take advantage of atmospheric conditions that can, at speeds up to about Mach 1.2, bounce sonic booms up, resulting in what Aerion calls "boomless cruise".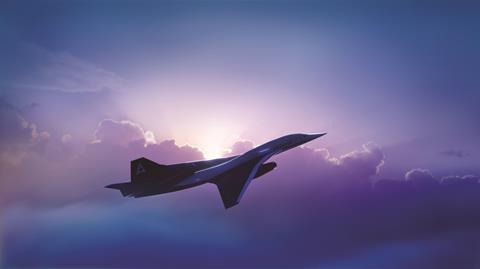 GE has completed an initial design review with Aerion, and last year performed acoustic tests "to give us a sound reference on the multi-stage fan design".
As development has progressed, GE says the Affinity's "design has evolved", with each new iteration building on the last. It has redesigned the powerplant's fan, low-pressure turbine and some hot-section parts for the purpose of increasing power and efficiency, it says without provide specifics.
"We continue to validate the design to meet the performance standards Aerion has set, as well as the noise and emission standards required to meet long-term regulatory goals," says the company.
GE has "a series of tests scheduled for later this year focused on validating operability and performance. This includes subscale testing on the exhaust design and combustor," GE says.