To forge closer ties with suppliers and with prime customers Pratt & Whitney (P&W) and GE Aerospace, South Korea's Hanwha Aerospace has moved the headquarters of its International Engine Business to Connecticut.
A revenue partner in P&W's geared-turbofan programme, Hanwha Aerospace says the shift will also enable its International Engine Business to capitalise on Connecticut's broad pool of skilled aerospace workers.
The engine division has had a Connecticut presence for years and was previously based in the South Korean city of Changwon. Hanwha Aerospace relocated the headquarters to Cheshire, Connecticut in July but disclosed the move on 9 November.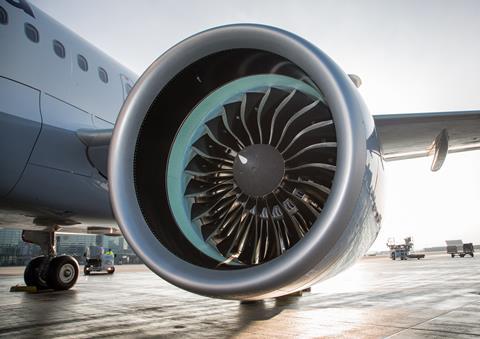 "The goal is to be positioned for the future of aerospace," says Hanwha Aerospace USA vice-president and general manager Franklin Dempsey.
Being in Connecticut puts Hanwha Aerospace's engine business near the doorstep of East Hartford-based P&W, and closer to Ohio-based GE Aerospace and to US metal and metallic component suppliers like ATI, Wyman-Gordon and Wyman's parent Precision Castparts, Dempsey adds.
The International Engine Business supplies a range of components to P&W, including containment cases, integrally bladed rotors (also called "blisks"), hubs and turbine disks found in PW1100Gs, which power Airbus A320neo-family jets, and PW1500Gs, found on A220s.
Hanwha Aerospace's high-pressure disks include those that prompted P&W this year to recall some 1,200 PW1100Gs for early inspections or disk replacements, Dempsey confirms, while declining to comment further.
The issue, which P&W says stems from a problem involving manufacturing using powdered metal, is forcing airlines globally to ground hundreds of Airbus jets at any given time.
Hanwha Aerospace's engine unit also supplies P&W with components for PW4000s and F119s, the latter of which powers Lockheed Martin F-22s.
For GE Aerospace, it produces components for F414s, which power jets including Boeing F/A-18s, and for F110s, which power F-15EXs, among other aircraft. Hanwha Aerospace's engine business also supplies CFM International, a joint GE Aerospace-Safran Aircraft Engines company, with components for Leap-1B turbofans, which power Boeing's 737 Max.
Hanwha Aerospace also recently named a new chief executive of its International Engine Business – Tim te Riele, who most recently was chief operating office of Hanwha's Power Systems business and had previously worked at General Electric.
Hanwha Aerospace's International Engine Business generates about $700 million in annual revenue and has manufacturing facilities in Changwon, Hanoi in Vietnam and at three sites in Connecticut. It has about 1,600 workers globally, including some 600 in Connecticut.
As part of the headquarters relocation, the engine business bolstered its Cheshire workforce with about 40 additional staff, roughly half being South Korean expatriates. It plans to further expand in Cheshire, Dempsey adds.
The company is also helping ensure it has a steady supply of new skilled workers through an ongoing partnership with Central Connecticut State University.