As the country's only producer of gas tubine engines, South Korea's Hanwha Aerospace has become an integral part of Seoul's ambitions in the sector, with involvement in several key propulsion programmes.
That importance can be seen in the company's results: for 2019, Hanwha Aerospace's aviation-related work generated revenue of W1.3 trillion ($1 billion) across of a range of powerplant programmes, up sharply from W969 billion in 2018.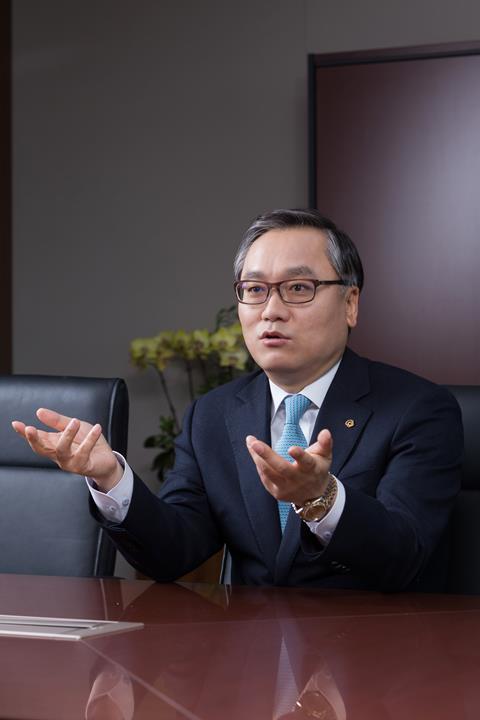 But, in aerospace terms, it is only a relatively recent entrant on the scene. The firm can trace its history back to 1977 when it was established as Samsung Precision, producing film cameras and performing aircraft engine MRO. Over the years it added various business lines, mainly in defence, along with name changes which saw it become Samsung Techwin in 2000 and then Hanwha Techwin in 2015 following Samsung's sale of its interest, finally adopting the Hanwha Aerospace moniker in 2018.
Today, the business comprises five units: Hanwha Systems, Hanwha Defense, Hanwha Techwin, Hanwha Power Systems, and Hanwha Precision Machinery. Hanwha Aerospace, in turn, is controlled by 33% shareholder Hanwha Group (founded in 1952 as Korea Explosives Company).
Major programmes include licence production of the GE Aviation F404 engine for the Korea Aerospace Industries T-50 family of advanced jet trainer/light attack aircraft. In addition to wide adoption by the Republic of Korea Air Force (ROKAF), the type has been acquired by Indonesia, Iraq, the Philippines, and Thailand.
"However, our military business is expected to continue to grow as we are participating in large-scale government programmes such as the Light Armed Helicopter [LAH] and K-FX fighter," says Hanwha Aerospace chief executive Hyunwoo Shin.
"In addition, we are seeing positive results on the MRO business for the F404 engine."
As a follow-on programme to the F404, Shin says that the company is talking with GE Aviation about local production of the higher thrust F414, which was selected as the powerplant for the twin-engined K-FX.
The company expects to build more than 100 F414s starting in 2026, with plans to produce 30-40% of components locally.
KAI intends to start building a prototype of the new fighter in 2021. At least 120 examples are expected to replace the ROKAF's fleet of ageing McDonnell Douglas F-4D/E Phantom IIs and Northrop F-5E/F Tiger IIs. Indonesia appears likely obtain 48 examples of the IF-X variant, through an initial order of 16 units, plus 32 to follow depending on finances.
Hanwha Aerospace's 49%-owned unit, Hanwha Systems, also has a major role in the K-FX. It has developed an indigenous active electronically scanned array (AESA) radar for the new fighter that passed the critical design stage in 2019. The company hopes to deliver units of the new radar next year for testing.
In addition to the K-FX, Hanwha Aerospace sees opportunities for its AESA radars as potential upgrades for the T-50, as well as for the ROKAF's fleet of Boeing F-15Ks.
"We can progress to these upgrade programmes after mass production of KF-X," says Shin.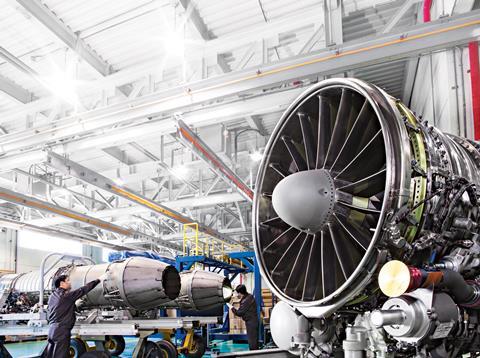 Hanwha is also involved with the most powerful variant of Safran's Arriel turboshaft engine - the 2L2 - which it will licence-build at its Changwon factory for the LAH programme; the helicopter performed its maiden sortie in 2019.
Meanwhile, Safran will supply its existing Arriel 2C2 for the commercial variant of the rotorcraft, the 4.5t Light Civil Helicopter (LCH).
The LAH and LCH are based on the Airbus Helicopters H155, with the attack version to replace types such as the MD Helicopters MD500 and Bell AH-1J/S Cobra in service with South Korea's army.
Hanwha hopes to achieve European type certification for the turboshaft this year, with a long-term ambition to produce over 400 Arriel 2L2 engines by 2024, says Shin.
Balancing Hanwha Aerospace's defence portfolio is a range of production work on components for commercial aircraft engines, particularly blades, vanes, blisks, and cases. The company has relationships with all three major propulsion manufacturers, including work on the GEnx powerplant for the Boeing 787 and the Trent XWB for the Airbus A350.
The company also has workshare on Pratt & Whitney PW1000 geared turbofans, and CFM International Leap-series engines. Given the 737 Max production halt amid the type's global grounding, Shin notes that CFM partners GE and Safran have reduced Leap-1B output by 70% and 100%, respectively. While this has had an affect on Hanwha, demand for the Leap-1A variant for the A320neo remains robust.
"In addition, we are in active discussions with our customers in Korea and globally to secure additional volume in order to offset the reduction in revenue this year from the Leap-1B," says Shin. "Myself and all of our employees are making all efforts minimize the impact on sales and profits."