Should all proceed to plan, later this summer a small electric-powered aircraft in a distinctive red, white and blue livery will lift off from Boscombe Down airfield in Wiltshire.
Its pilot Phil O'Dell will take the modified Sharp Nemesis NXT up to around 1,000ft before performing four consecutive passes along a pre-designated 3km course, in the process smashing the current speed record for an electric aircraft of 210mph (337km/h).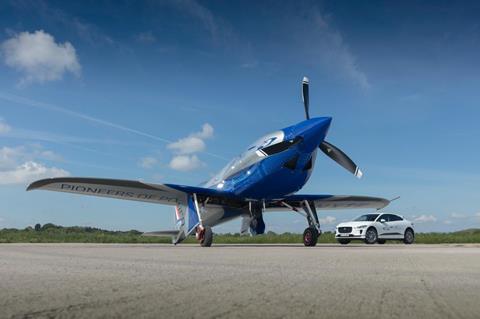 Such are the power demands of the effort that during the record attempt of just 10min the charge in the aircraft's 6,000-cell battery pack will have been virtually depleted.
"It is," says Matheu Parr, who heads the ACCEL project for the UK engine manufacturer, "great to be an electrical engineer at Rolls-Royce today."
Parr is customer director at Rolls-Royce's electrical business unit. Having joined the Derby firm in 2006 he has seen electrical power slowly assume ever greater importance for the company.
Of course, that is in some part due to the propulsion specialist's travails in the market for gas turbine engines for large commercial aircraft, where a particular exposure to the long-haul segment has posed recent challenges.
That downturn has coincided with technological advances which have made electrical power for aviation a viable prospect – illustrated by the ACCEL project – plus an increased focus on the decarbonisation of aviation.
All of which does not mean that Rolls-Royce has rapidly switched course – research into the potential for electric power has been taking place for several years – but what is has done is to push that interest to the fore.
The current focus is on two key segments: urban air mobility (UAM) – air vehicles operating at ranges of in the region of 100nm (185km) – and commuter aircraft capable of carrying nine to 19 passengers over distances of around 500nm.
Crucially, the manufacturer has already secured contracts in both sectors: in the former, Rolls-Royce was recently selected by UK-based start-up Vertical Aerospace to provide the electrical propulsion system – save for the batteries – for its VA-X4 four-passenger aircraft; and in October 2020, Italian airframer Tecnam announced Rolls-Royce was to supply the electrical powertrain for its nine-passenger P-Volt commuter aircraft. The two aircraft programmes are also in the healthy position of having launch orders in place.
While Rolls-Royce has maintained an interest in engines for light helicopters with its M250 series, the move into the new segments is a "big step" into markets that the company has not previously addressed, says Parr.
That is doubly so for UAM, which is an entirely new proposition whose business model relies significantly on the cost savings and architectures enabled by electric propulsion.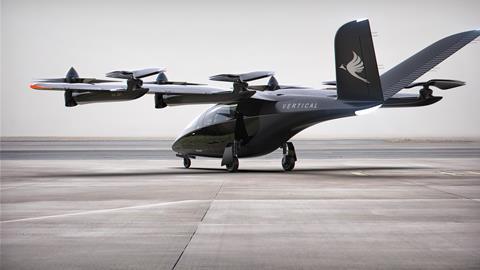 But it is a sector that is evolving quickly: Vertical Aerospace plans for its VA-X4 to enter service in 2024 or 2025, in line with other similar programmes. While an initial prototype due to fly this year will not have the Rolls-Royce powertrain, the first system will still need to be shipped in 2022 for integration with the developer's Iron Bird test rig, says Parr.
"It is accelerating much faster than traditional aerospace development timelines," he says, and is an area which is "coming at us quite a bit quicker than we thought a few years ago". However, that is backed by what he describes as "credible plans from our customers".
The rapid pace of progress is not an issue for Rolls-Royce, says Parr, "because we are not starting today – we began four or five years ago".
For the UAM segment, the propulsion system is sized to deliver around 100kW of power – around 135hp – which Parr says is the optimal size for the architecture planned by Vertical Aerospace and others which feature multiple tilting rotors. The VA-X4 will use eight Rolls-Royce-supplied motors.
Steve Mountain, engineering director at Rolls-Royce Electrical, says that the design of the system and its size is driven by the eventual application. Other considerations include how to make it "resilient to different failure modes".
Although Vertical Aerospace has chosen to develop its battery pack in-house, for future applications Rolls-Royce hopes to deliver a complete power system: from the energy storage at one end, through to the electric motors at the other.
In mid-June, the company announced a significant £80 million ($110 million) investment in energy storage systems (ESS) for aerospace applications to complement its existing electrical propulsion systems.
The move, says Parr, is about "taking the battery technology" it has used in several research programmes "and turning that into a product range".
While the VA-X4 may not use Rolls-Royce's ESS, it is central to the Tecnam P-Volt's powertrain, which is sized to deliver 600kW to a pair of electric motors.
Based on the P2012 airframe, the P-Volt's new propulsion system replaces the 375hp (280kW) Lycoming turbocharged piston engines of the original. As yet, no range or speed performance has been released for the aircraft.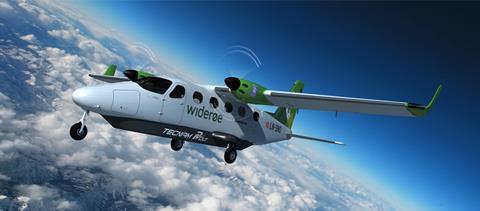 Service entry for the P-Volt will be in 2026 with Norwegian regional carrier Wideroe.
Rolls-Royce's move into the segment can also benefit from the research carried out by the firm's power systems business into the use of renewables to generate the electricity for so-called microgrids – potentially feeding the charging infrastructure required for commuter operations to give a truly zero-carbon operation. "Our portfolio plays really strongly across the group," says Parr.
He believes the compelling economics promised by electrical power – lower operating and maintenance costs – will reinvigorate the commuter segment. Even when the need to replace batteries is factored in "it remains an incredibly attractive proposition".
But, says Mountain, the frequency with which those cells need replacing, and the speed at which they can be charged are two significant variables for developers of electric aircraft to consider.
While you can have batteries that last longer or charge more quickly, extra weight is the penalty in both cases.
"It's about educating the customer and coming to an agreement on what the design trade-offs are," he says, noting that an aircraft's intended mission profile "sets the parameters of what the battery must do".
Key to Rolls-Royce's success in these new markets is how many units its airframe partners can sell. Vertical Aerospace is gearing up for the production of thousands of units each year – similar output levels are predicted by other UAM manufacturers – but there have been few forecasts yet for the sub-regional or commuter segment.
No details on the pricing for the P-Volt or VA-X4 have so far been released, but they are likely to be in the single-digit million range. Parr says Rolls-Royce's contribution to such aircraft will represent around 30-35% of their total value – a strong revenue stream to be sure, but many units will need to be sold to match the value of a single large gas turbine, which has a price ticket typically in the tens of millions of dollars.
Nonetheless, Parr says Rolls-Royce has a clear ambition for the segment: "We want to go and establish ourselves as the number one electrical propulsion system provider." On top of which, the business continues to work on MW-class power systems for use elsewhere in the civil aerospace business.
Meanwhile, Parr's focus will shortly shift to the skies above the Wiltshire countryside in the hope of securing a place in the record books.