The aero engine, space and defence unit of Japanese firm IHI generated revenues of Y108.2 billion ($957 million) for the first half of its 2021 financial year, up 9% from a year earlier as the airline sector starts to recover from the coronavirus pandemic.
The unit also narrowed its operating lost for the six months to 30 September to Y12.3 billion, compared an operating loss of Y16.8 billion a year earlier.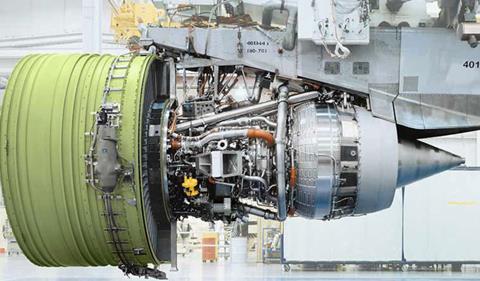 IHI notes that profitability was weighed down by an increase in sales in newly made engines, which carry a high cost burden in the early stage of the engine's lifecycle. Still, a depreciating yen helped narrow operating losses.
During the period it generated orders of Y86.8 billion for the first six months of its 2021 financial year, down from Y90.6 billion a year earlier.
The company reports that the demand for air transportation is increasing transaction volumes for spare parts.
For the second quarter of the 2021 financial year, its spare parts business generated Y28.4 billion in revenue. While this was just 64% of its average quarterly spare parts revenue in 2019, it was an improvement on the five previous quarters.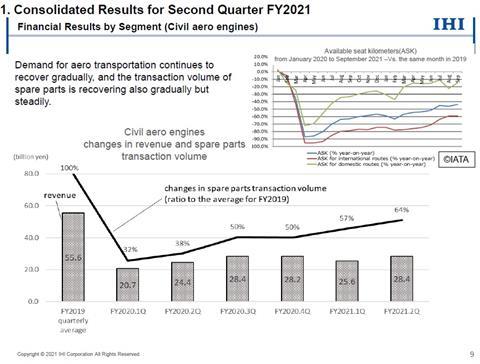 IHI notes that passenger demand for both domestic and short-haul international flights is recovering as vaccinations become widespread, and cargo demand exceeds pre-pandemic levels.
"From FY2022, international passenger demand should recover on vaccination progress and domestic flight turnaround, with aero engine maintenance demand rising as more aircraft operate," says IHI.
IHI has workshare on several major aircraft engine programmes, such as the Pratt & Whitney V2500, PW1100G, and the GE Aviation CF34, GE90, GEnx, and Passport 20.
Overall, the unit accounted for about one fifth of the IHI Group's total revenue of Y514 billion. IHI's other areas of business include industrial systems, infrastructure, offshore facilities, and work in the resources sector.