Indian airline Go First has replaced 510 Pratt & Whitney PW1100G geared turbofans (GTFs) in recent years, and last month had 64 of what it calls "defective" PW1100Gs, citing combustor and other issues.
That is according to recently filed court papers, which reveal that last month a Singapore arbitrator also ordered P&W to supply Go First with 90 spare engines this year.
P&W, however, has said that many spares do not exist.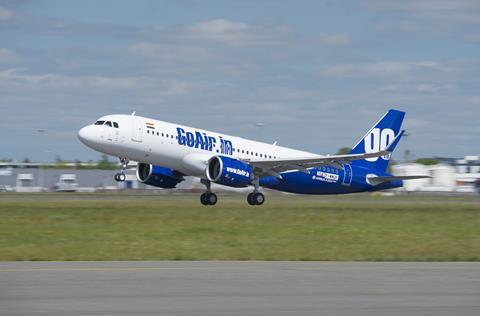 Go First revealed these details as part of a lawsuit it filed against P&W on 28 April in US District Court for the District of Delaware. The Mumbai-based airline asked a US judge to enforce the Singapore arbitrator's order, saying P&W has not complied.
"The defective engines supplied to Go First have failed on an epidemic scale," the airline told the Singapore arbitrator in March, US court papers show. "The combustor section (the hot stage of the aircraft engine) degrades prematurely, causing engine shutdowns and premature failure."
Go First on 2 May suspended flights for three days and reportedly filed for bankruptcy protection, saying PW1100G problems had crippled its operation. The airline did not respond to a request for comment.
The US court papers lay out Go First's complaints. It alleges PW1100Gs have proved far less durable than expected, decimating its operations and finances, and that P&W failed to replace or repair engines as required by maintenance contracts.
"P&W is complying with the March 2023 arbitration ruling related to Go First. As this is now a matter of litigation, we will not comment further," P&W tells FlightGlobal, saying it is making GTF durability improvements.
"Go First has a lengthy history of missing its financial obligations to Pratt," the Connecticut engine maker adds.
Airlines have praised the efficiency of GTFs, but in recent months several carriers – Air Baltic, Hawaiian Airlines, Spirit Airlines – have complained about PW1100G durability problems and slow P&W maintenance work. Supply chain and labour shortages have been cited as factors.
Such issues have impacted the broader aerospace industry, including CFM International, which makes the competing Leap-1A turbofan – a second option on the A320neo.
Go First has suffered PW1100G problems for years, and in March brought a complaint against P&W to the Singapore International Arbitration Centre – the entity specified in its maintenance contracts as the venue to settle disputes.
"GTF engines suffer from a set of serious design and/or manufacturing flaws and have not remotely performed as Pratt & Whitney (or Go First) expected," it told the arbitrator, court papers show.
500 ENGINE CHANGES
Go First began operating PW1100G-powered A320neos in May 2016.
To date, the carrier has "been required to undertake 289 engine changes and 221 engine swaps: a total of 510 engine removals", it said. "These are failures on an epidemic scale."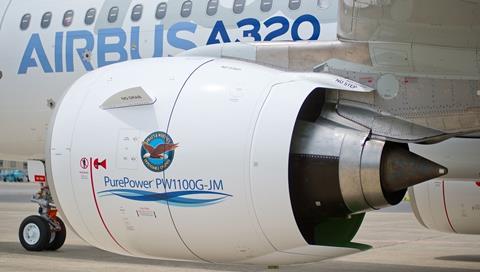 Engine changes involve replacing failed turbofans with spares, while swaps involve replacing failed engines with powerplants taken from already grounded jets.
Go First also said that in March it had 64 "unserviceable" PW1100Gs: 44 in its possession and 20 with P&W. Twenty-seven of its 54 A320neos were grounded, leaving the airline with sufficient jets to operate 1,390 weekly flights – 40% fewer than in October 2021, it told the arbitrator.
Asked to comment, P&W says: "With respect to GTF durability, we have improved time-on-wing since programme inception, but we are not yet at the level we expect to achieve".
"This has put stress on the operations of the fleet. We continue to develop upgrades from the current GTF configuration to improve durability," it adds.
NOT ENOUGH SPARES
In a 30 March ruling, the Singapore arbitrator ordered P&W to repair Go First's 64 allegedly defective PW1100Gs.
It also required P&W "take all reasonable steps" to send Go First 10 spare leased PW1100Gs within 28 days, plus 10 more "per month until December 2023". That equates to 90 spare engines.
P&W says it will comply with the arbitrator's decision. But it has also said it lacks enough spare engines.
In a 3 April letter to Go First chief executive Kaushik Khona, P&W president of commercial engines Rick Deurloo said, "Unfortunately… no spare leased engines are presently available from Pratt & Whitney or its affiliates".
The total global pool of spare leased PW1100Gs stood at only 295, of which 193 were already leased and 102 were unserviceable, Deurloo added. "Pratt & Whitney does not yet have a spare leased engines delivery schedule for Go First."
P&W faces the problem of letting down other customers if it prioritises Go First.
"Pratt & Whitney is committed to the success of our airline customers, and we continue to prioritise delivery schedules for all customers," the company tells FlightGlobal.
The case in US court remains open.