Hawaiian Airlines' chief executive has taken issue with how RTX and subsidiary Pratt & Whitney (P&W) apparently plan to handle its recall of PW1100G geared turbofans (GTFs), which power Hawaiian's Airbus A321neos.
CEO Peter Ingram is particularly peeved at the lack of spare PW1100Gs, noting airlines will be forced to ground jets as a result – even though P&W plans in the coming years to continue delivering new engines for installation on new Airbus jets.
"It is infuriating to think that this is going to be borne by the airlines that are operating the airplanes, and… the guests of those airlines who want to be travelling on those aircraft," Ingram tells FlightGlobal on 12 September. "I think there needs to be a level of respect paid to people who bought the aircraft already."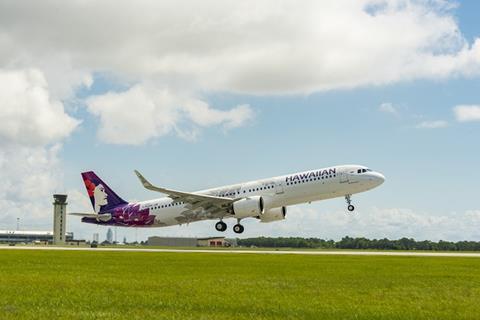 Airline heads globally are scrambling to trim their networks and rework fleet plans after RTX executives on 11 September revealed more fully the impact of defective high-pressure turbine and compressor disks in PW1100Gs – one of two engine options offered by Airbus for A320neo-family jets.
Due to newly implemented inspection and maintenance requirements, RTX now expects "an average of 350" GTF-powered A320neo-family jets will be grounded "from 2024 through 2026, with a peak of 600 to 650 aircraft-on-ground in the first half of 2024".
"For us, that will probably result in the grounding of 20 Neos at any given time," Lufthansa CEO Carsten Spohr said on 12 September. That represents about half Lufthansa's fleet of the type.
The issue comes amid booming demand for air travel, and as some 10% of PW1100G-powered A320neo-family jets are already grounded due to maintenance capacity and material shortages. "This is an amazing time when it comes to the demand side of the industry, but it is a terrible time when it comes to the supply side," Spohr adds.
P&W had already disclosed some information about the defect, which it says results from a "rare" powered-metal problem that can lead disks to fail.
But RTX's 11 September disclosure said the problem requires an additional 600-700 PW1100Gs be removed from aircraft by 2026 for shop visits. Those visits are in addition to visits previously planned by P&W, and most removals will happen this year and early next. Each engine will likely be in the shop for 250-300 days – a lengthy period because P&W intends to replace affected parts.
"Over the coming weeks and months, we'll continue to work closely with all of our key stakeholders, including the regulators, to ensure that we support our customers through this difficult situation," says RTX CEO Gregory Hayes. He adds that RTX and P&W are focused on "reducing the turnaround time in our shops, so we can get these assets back to our customers as quickly as possible".
QUESTION OF SPARES
Despite an industrywide shortage of spare engines, P&W will continue delivering new engines and spare parts, RTX adds, noting it has since fixed the manufacturing problem.
That strategy may minimise the impact on Airbus' deliveries but means some airlines will be receiving new, good-to-go jets as others are pulling A320neos from service.
"We've been delivered news that is unacceptable," says Hawaiian's Ingram. He says operational impacts could be eased if P&W would make more spare PW1100Gs available, allowing carriers to swap out engines needing maintenance.
"There will be a time to talk about compensation. What I am interested in right now is understanding what Pratt & Whitney, what RTX [and] what Airbus [are] going to do to mitigate it for the operators who have purchased these airplanes over the last several years," he says.
"The question is, how do we get more spare engines," he adds. "It's not the coming-off-wing [that] is the problem. It's the coming-off-wing without the spares being available."
Reached by FlightGlobal, P&W declines to respond to that concern.
Airbus says it is "supporting customers as they work with Pratt & Whitney to resolve the situation and to minimise the disruption in their fleets".
Ingram notes Hawaiian had big trouble, early in the service life of its Boeing 717s, with those jets' Rolls-Royce BR700 turbofans, even one year having to replace some 50 powerplant. "We never had [a 717] grounded for lack of engines," he says. "Rolls was able to supply us with [spare] engines so we could operate our schedule."
Four of Hawaiian's 18 A321neos are already grounded due to PW1100G issues. That led the airline to suspend its Oakland-Lihue route between September and December and to reduce its flights to San Jose. The impact would have been greater except Hawaiian's plan to resume operations to Japan has been slower than expected, leaving it with more available aircraft than anticipated.
But every additional grounded A321neo "is basically going to cost us a route to the mainland United States", Ingram says.
Though RTX describes the problem as "rare", the issue is significant enough to warrant a mitigation plan covering 3,000 engines. Those are now subject to reduced inspection intervals at every 2,800-3,800 cycles, and reduced life limits of 5,000-7,000 cycles. P&W declines to say what those limits had been previously, but says engines will replaced disks will not be subject to the revised limits.
Lufthansa is still evaluating the impact its operation. Spohr says the airline intends to swap PW1100Gs between aircraft to keep as many jets flying as possible, and to delay retirements of some of its roughly 150 first-generation A320s
Still, the problem will force the airline to curb its expansion plans, Spohr says without offering details. (He notes, however, that Lufthansa's in-house maintenance arm Lufthansa Technik stands to benefit by performing some of the maintenance work.)
Other airlines are likewise warning of disruptions, including Air New Zealand, Singapore's Scoot and European discounter Wizz, which expects a 10% capacity hit in the coming months.
Other carriers say they are evaluated potential impacts, though it seem probable that many or most operators of PW1100G-powered Airbus jets will feel some effect.
OTHER ENGINE TYPES AFFECTED?
Broader fallout remains unclear, including the degree to which the defect exists in other P&W engine types, such as two additional GTF variants – the A220's PW1500G and the Embraer E-Jet E2's PW1900G – and International Aero Engines' V2500.
P&W has already said the defect exists in some V2500s, which power about 2,680 first-generation A320-family jets globally, Cirium data shows. P&W part-owns IAE and makes V2500 high-pressure compressors and turbines.
"There's been some questions there," P&W president Chris Calio said on 11 September of V2500 impacts.
The company plans by end-September to complete analyses into the scope of the problem in those other engines, Calio adds.