LATAM Airlines is sticking with Pratt & Whitney PW1100G engines for the remaining Airbus A320neo-family jets the Chilean airline has on order.
Disclosed by P&W on 4 June, the commitment also applies to options held by the Chilean airline with Airbus.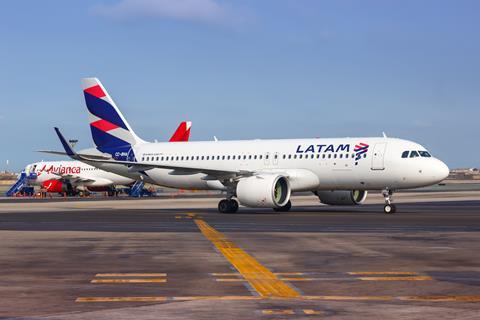 The selection is not surprising: LATAM already operates A320neo-family jets powered by P&W's PW1100G geared turbofan (GTF).
But the commitment throws positive momentum behind P&W at a time when various airlines have reported operating and maintenance issues with GTFs.
P&W notes that LATAM in 2013 selected PW1100Gs for more than 40 A320neo-family aircraft. Airbus data shows the airline has ordered 100 A320neo-family aircraft directly from the airframer: 38 A320neos, 17 of which have been delivered, and 62 A321neos.
LATAM has committed to equip as many as 146 of the Airbus narrowbodies with the GTF powerplants, P&W says. It will also provide maintenance under a long-term service agreement.
P&W has been working through issues with its geared turbofans. On 2 May, India airline Go First halted flying because, it said, half its 54 A320neos were down due to PW1100G maintenance issues.
Air Baltic, Hawaiian Airlines, IndiGo, Spirit Airlines and Swiss have also reported GTF maintenance issues, including with PW1100Gs and PW1500Gs, which power A220s.
P&W says it is working to address supply chain issues and to develop upgrades designed to improve engine durability.