Break-even for the CFM International Leap engine programme has been pushed back until 2024 or 2025 – a delay of two or three years over previous targets.
Prior to the pandemic, break-even was forecast for the end of 2022, Safran chief executive Olivier Andries said during a full-year results briefing on 25 February.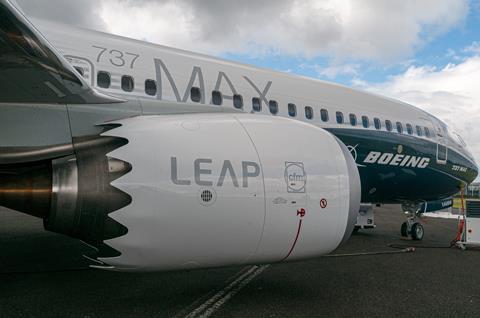 Safran, which is a partner in the CFM joint venture alongside GE Aviation, says that forecast was based on achieving annual deliveries of around 2,000 Leap-series engines. In 2020, CFM shipped 815 Leap engines and forecasts "800 plus" this year – far short of previous levels.
"Now with the impact of the crisis we will get back to this volume but probably not until 2024 or 2025," says Andries.
"Break-even is slipping by two or three years than what we had in mind before the crisis."
Leap production has been hit by both the coronavirus downturn and the grounding of the Boeing 737 Max for which the -1B variant is the exclusive powerplant.
While operations with the Max are slowly increasing following the lifting of groundings since November, Boeing still has a considerable number of built but undelivered aircraft to deal with before it can ramp up production.
Boeing will slowly raise output this year as it targets a rate of 31 aircraft per month by mid-2022. Airbus is building A320neos, on which the Leap-1A is an option, at a rate of 40 per month, rising to 45 by the end of the year.
That means that Leap-1B deliveries in 2021 will be lower than the previous year, says Safran chief financial officer Bernard Delpit.
On top of that, Safran will see a financial headwind of around €300 million ($367 million) this year due to an agreement it struck with Boeing at the start of 2020. That allowed CFM to be paid for engines that it had shipped to the US airframer the previous year but which customers had not received or paid for.
Those engines are now about "80% already paid for", says Delpit, and the payments "won't come back in 2021".