A leasing executive contends that technical issues with new-generation engines are offsetting their fuel-saving gains, and that demand for spare powerplants is extremely strong.
"New engines check the box on the [sustainability] goal, with 15-20% fuel savings, but obviously the issues related to the uncertainty of maintenance costs are probably eroding that benefit," says Christopher Rodrigues, senior vice-president of sales and marketing Asia at lessor SMBC Aero Engine Lease.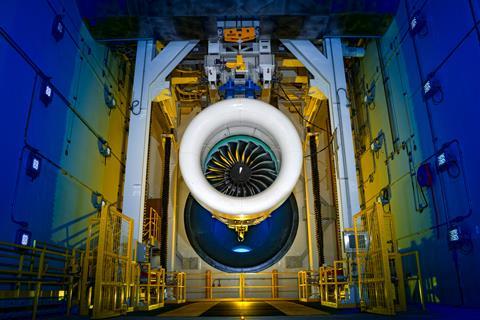 He adds that carriers are also struggling to provide enough capacity owing to challenges in the engine industry.
This has led to very strong demand for spare engines, a business area in which SMBC is active. He says that SMBC is seeing "multiple carriers" bid on the same spare engines.
Rodrigues made the remarks during a panel discussion at the recent MRO Asia Pacific event in Singapore.
Demand for previous-generation engines, such as the CFM International CFM56-5B and -5C, is also strong, with airlines seeking to lease them for up to 2-5 years.
Despite the promise offered by new narrowbody engines, notably the Pratt & Whitney PW1100G family of geared turbofans, service reliability has disappointed. There is also a shortage of spare parts and MRO availability.
In September, P&W parent RTX sent a shudder through the industry when it said that airlines will need to remove hundreds of PW1100Gs from the wings of Airbus A320neo-family jets by the end of 2024 to inspect for defective high-pressure turbine and compressor discs.
Rodrigues adds that engine manufacturers have largely abandoned power-by-the-hour (PBH) plans for most carriers, as these failed to generate sufficient revenue. PBH plans were attractive for airlines as they offered predictable maintenance costs.
Speaking on the same panel, Francesco Baccarini, area manager APAC at consultant SGI Aviation, says that the absence of such PBH agreements adds risk for carriers.
"It's hard now, because if you're a an operator and your introducing new technologies into your fleet with new engines, there is no experience and the cost can be very unpredictable… you want to have a fixed price…the OEMs no longer propose PBH, which is challenging in my opinion."