More than half of Volaris's fleet could be affected by Pratt & Whitney's (P&W) recall of PW1100G engines due to disk problems.
That is according to Volaris executives, who say they must deftly juggle capacity, aircraft and schedules for the foreseeable future in response to an engine-disk issue that is forcing airlines globally to ground some Airbus A320neo-family jets with PW1100G geared turbofans (GTFs).
Officials at the airline are eager for clarity from P&W about the extent of the problem and for a timeline by which PW1100Gs should be removed, inspected and returned to service.
"We are actively addressing the global issue of engine inspections affecting multiple airlines and are working closely with Pratt & Whitney to obtain the necessary technical support and financial compensation for the affected engines," Volaris chief executive Enrique Beltranena told investors on 25 October. "We've developed a mitigation plan to partially offset the impact."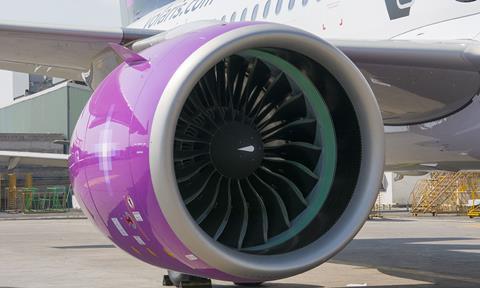 That mitigation plan includes extending aircraft leases, and shifting aircraft around to maintain predictability for the airline and its customers, Volaris says.
"We have to publish a schedule that is solid and reliable and it's not changing for the customers," Beltranena adds. "There are aircraft going in, aircraft going out, engines going in, engines going out. So it's really variable."
About 73 aircraft – 51 Airbus A320neos and 22 A321neos – in Volaris' 126-strong fleet may be affected by the engine recall over the coming years. Volaris now has 16 of the Airbus narrowbodies grounded due to the problem.
In September alone, diminished capacity of 8% due to the groundings cost the company $18 million, chief financial officer Jaime Pous says. Earlier this month, Volaris revised downward its full-year operating revenue expectation to $3.2 billion, at the lower end of prior expectations, because of the potential impact of the engine issue.
"Approximately 3,000 engines worldwide will undergo inspections from 2023 to 2026, CEO Beltranena adds. "These inspections are mandated by the FAA after a specific number of cycles depending on the engine type."
P&W in recent months disclosed the extent of the problem, which involves defective high-pressure compressor and turbine disks. It has attributed the defects to a manufacturing process using powdered metal and said the work of inspecting and replacing parts could take 250-300 days per engine.
The issue stands to disrupt the global aerospace industry significantly. The recalls will force hundreds of Airbus A320neo-family jets to be grounded at any given time in the coming years.
"We are diligently following all preventative airworthiness directives," Beltranena says. While current information published by P&W refers to an initial batch of about 1,200 engines, that already puts the company in a tight spot.
"The current estimate is that depending on the work scope it will take 250-300 days on average for these engines to be removed and inspected, and returned to the operator," Beltranena says. "It is fair to assume that we will be forced to shrink our capacity in 2024 as a result of these engine issues."
P&W is expected to take a $3-3.5 billion hit as a result, 80% of which will relate to customer support and compensation, and 20% of which will cover labour and materials.
Volaris expects to reach an agreement with P&W on compensation "in the next month", Beltranena says.